K-Drama 'Penthouse Season 2' - First Broadcast on Friday, February 19, 2021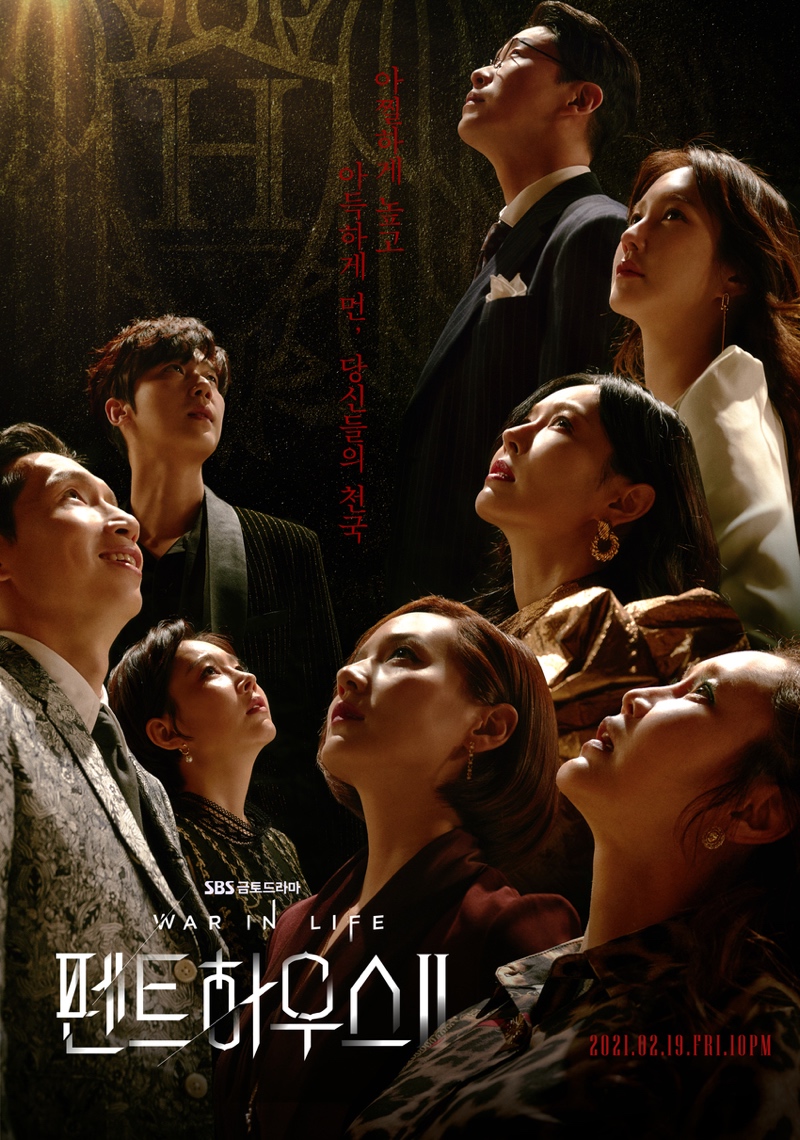 "The Penthouse: War in Life (2020)" is a very popular K-drama telling the story of wealthy people living in Hera Palace. This drama tells the story about women's solidarity and revenge to protect their children.
This drama achieved the highest ranking in all-channel dramas, 21 times in a row since its first broadcast on October 26, 2020 until its last broadcast on January 5, 2021.
There was the teaser for 'Penthouse Season 2', released on January 12, 2021 and the first broadcast is on Friday, February 19, 2021!
Main Cast: Shim Su Ryeon (Portrayed by Lee Ji-Ah), Cheon Seo Jin (Portrayed by Kim So Yeon), Oh Yoon Hee (Portrayed by Eugene)
Supporting Cast: Joo Dan Tae (Portrayed by Um Ki Joon), Han Yoon Cheol (Portrayed by Yoon Jong Hoon), Lee Kyu Jin (Portrayed by Bong tae Kyu), Kang Ma Ri (Portrayed by Shin Eun Kyung), Go Sang Ah (Portrayed by Yoon Joo Hee), Joo Seok Hoon (Portrayed by Kim Young Dae), Joo Seok Kyung (Portrayed by Han Ji Hyun),Ha Eun Byeol(Portrayed by Choi Ye Bin), Bae Ro Na (Portrayed by Kim Hyun Soo), Yoo Jenny (Portrayed by Jin Ji Hee),Lee Min Hyeok (Portrayed by Lee Tae Bin), Gu Ho Dong/Logan Lee (Portrayed by Park Eun Seok) and so on...
Written by Kim Soon Ok
Created by Choi Young Hoon
Directed by Joo Dong Min, Park Po Ram
---
You may also like other Ella's Pick -
[FOOD: Restaurants, Korean dishes, Cafes] - Cafe 'Another Jewelry' - A place to enjoy beautiful Han River view in Namyangju
[TRAVEL: Tour sites, Travel info, Hotels] - Olive Young - Health & Beauty Store in Korea
[FOOD: Restaurants, Korean dishes, Cafes] - Starbucks Yangpyeong - The largest Starbucks store in Korea
[TRAVEL: Tour sites, Travel info, Hotels] - Yangsuri Dumulmeori in Yangpyeong, KOREA
[FOOD: Restaurants, Korean dishes, Cafes] - Cafe Moani in Bundang, KOREA
[TRAVEL: Tour sites, Travel info, Hotels] - Gwanghwamun - The Southern gate of Gyeongbokgung Palace in Korea
[TRAVEL: Tour sites, Travel info, Hotels] - Myeongdong - A famous shopping district in Seoul, KOREA
[TRAVEL: Tour sites, Travel info, Hotels] - Insadong - Experience the tradition of Korea in Seoul
[TRAVEL: Tour sites, Travel info, Hotels] - Cheonggyecheon - Modern Public Stream in Seoul, KOREA