Cheonggyecheon - Modern Public Stream in Seoul, Korea
"Cheonggyecheon (청계천 in Korean)" is one of the must-visit places in Korea.
Cheonggyecheon is a 10.9 kilometer long modern public stream that runs through downtown Seoul in Korea. Cheonggyecheon is to restore the history and culture of the country and to preserve the natural environment in Seoul.
The Cheonggyecheon stream starts from Cheonggye Plaza, covering an area of 2,500 square meters.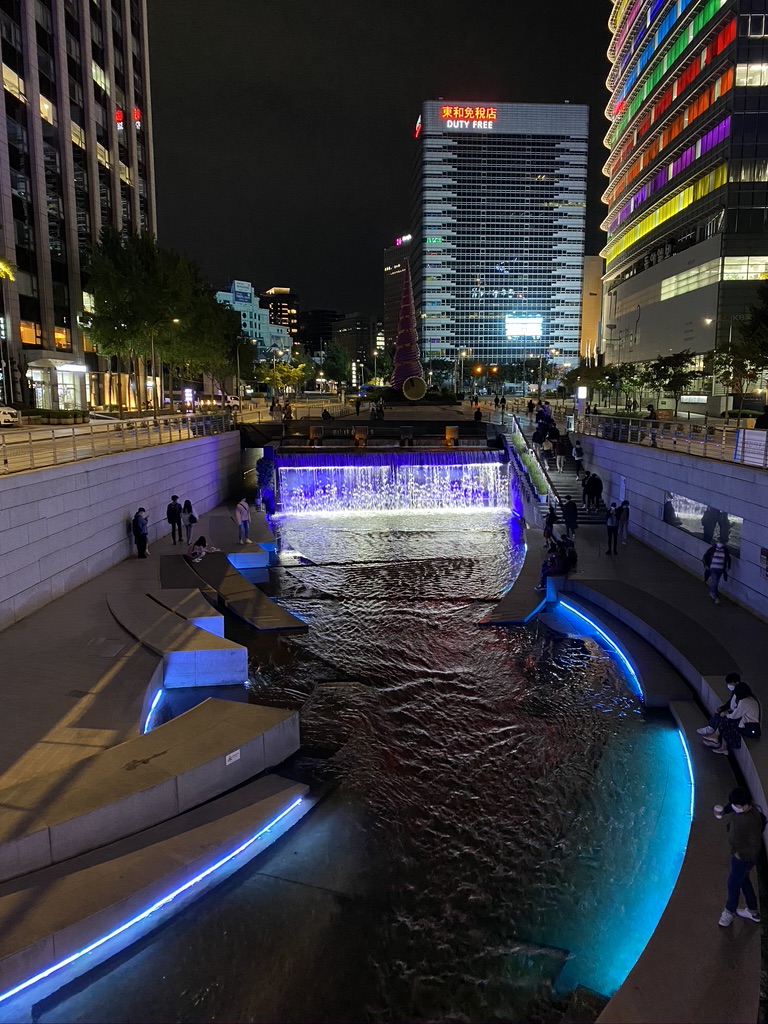 The stream of Cheonggyecheon is restored from the stream during the Joseon Dynasty (1392-1910) and the stream was covered with elevated highway from 1950 to 1953. In 2003, Lee Myung-Bak (Seoul Mayor in 2003) launched Cheonggyecheon Stream Restoration Project to remove elevated highway and restore the stream.
The stream was opened to public in 2005. As it flows from Gwanghwamun to Dongdaemun, Cheonggyecheon is a perfect place for you to stroll around while staying in Seoul.
While walking along the Cheonggyecheon stream, you can find and visit a lot of famous travel spots such as Gyeongbokgung Palace, Gwangjang Market, Dongdaemun Shopping Malls and Jongmyo Shrine.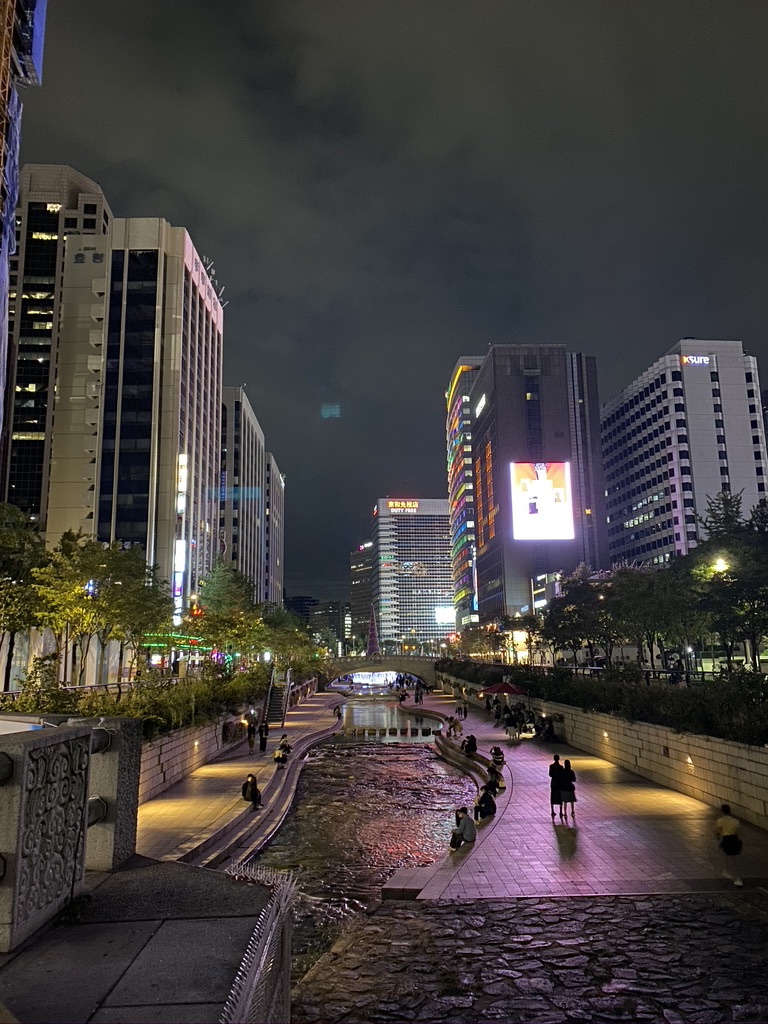 Sometimes, there are display of lights at Cheonggyecheon at night so you may enjoy the beautiful scenery here.
There is a Seoul Lantern Festival at Cheonggyecheon in November for 2 weeks and this is one of the attractions you can enjoy at Cheonggyecheon during this time. In December, Seoul Christmas Festival is also held just a few days after the Seoul Lantern Festival held in November. You can find lantern ornaments and Christmas trees at this festival in December.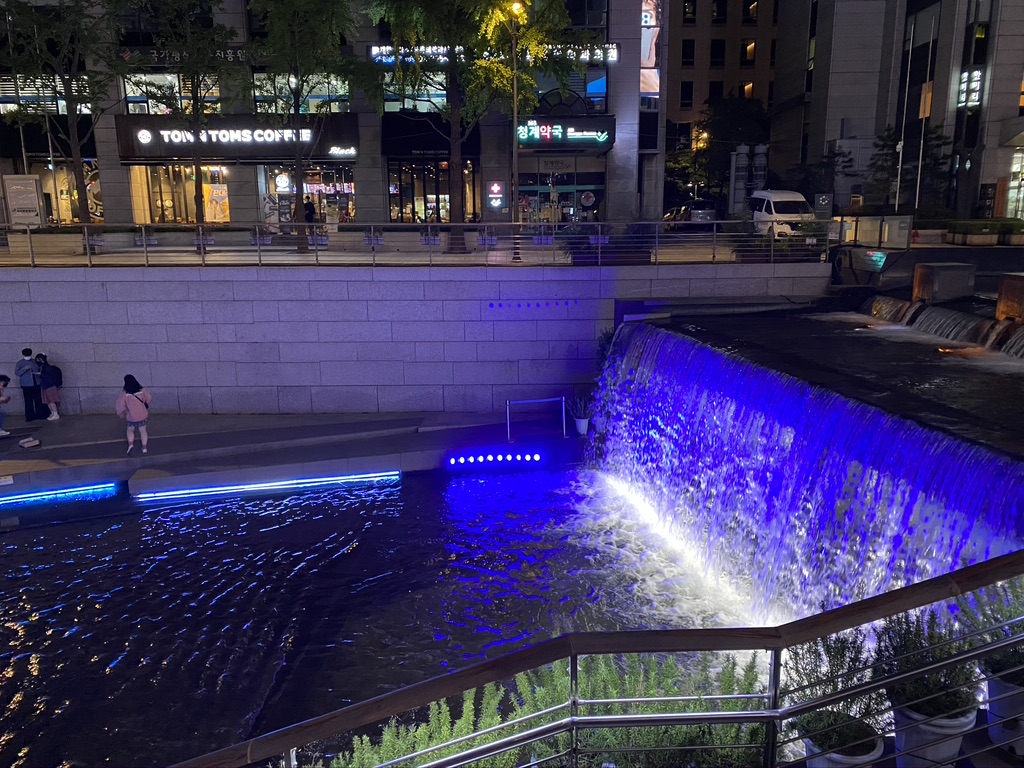 While you are walking along the Cheonggyecheon stream, you can find Blue Bottle Coffee Shop. You may enjoy coffee time here while strolling around Cheonggyecheon.
As we mentioned, Cheonggyecheon stream is a must-visit place in Seoul so please take your time to stop by Cheonggyecheon and stroll around the stream.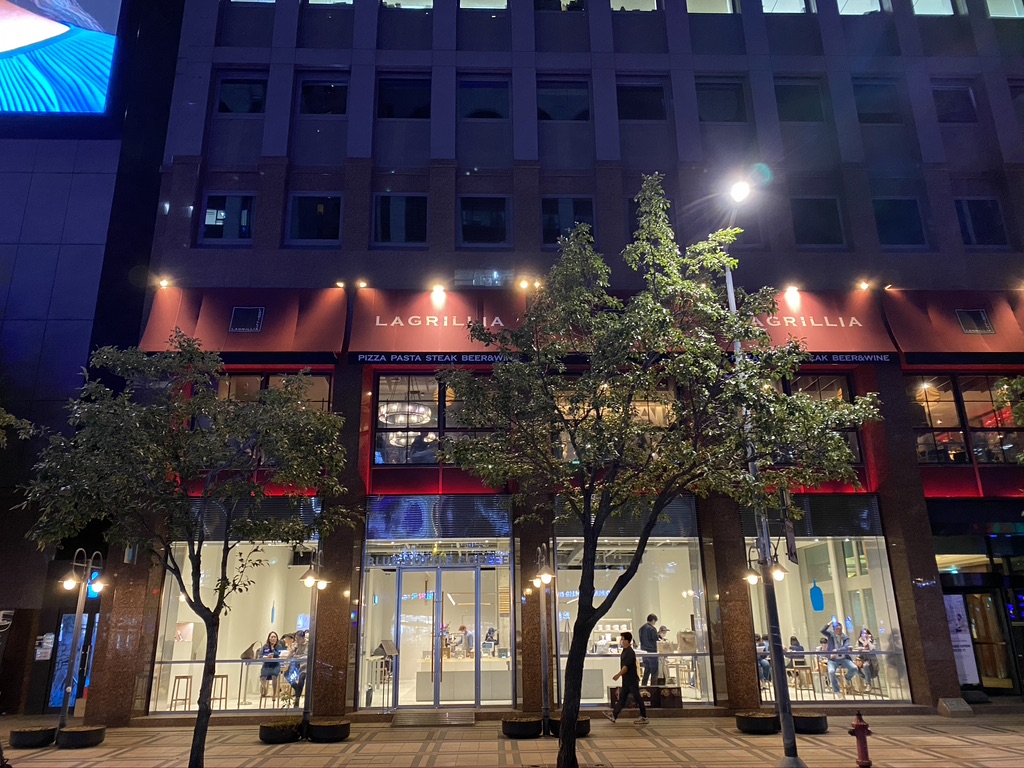 ---
You may also like other Ella's Pick -
[FOOD: Restaurants, Korean dishes, Cafes] - Mokmyeoksangbang - Michelin Guide Bibimbap Restaurant in Seoul
[TRAVEL: Tour sites, Travel info, Hotels] - Lotte World Mall & Seokchon Lake in Jamsil, Korea - Places to visit when you stay in Signiel Seoul
[FOOD: Restaurants, Korean dishes, Cafes] - Bills - Aussie Style Brunch Cafe in Yeoksam, Korea
[TRAVEL: Tour sites, Travel info, Hotels] - Olympic Park Seoul - A Large Park in Sonpa-gu, Seoul KOREA
[FOOD: Restaurants, Korean dishes, Cafes] - Changgo43 - Korean Beef Restaurant in Seoul