Signiel Seoul - A Luxury Landmark Hotel in Jamsil, Korea
"Signiel Seoul (시그니엘 서울 in Korean)" is located in "Lotte World Tower (롯데월드타워 in Korean)" which is the tallest building in South Korea. Signiel Seoul is a luxury landmark hotel in Seoul and is operated by Lotte Hotels & Resorts, the biggest hotel group in Korea.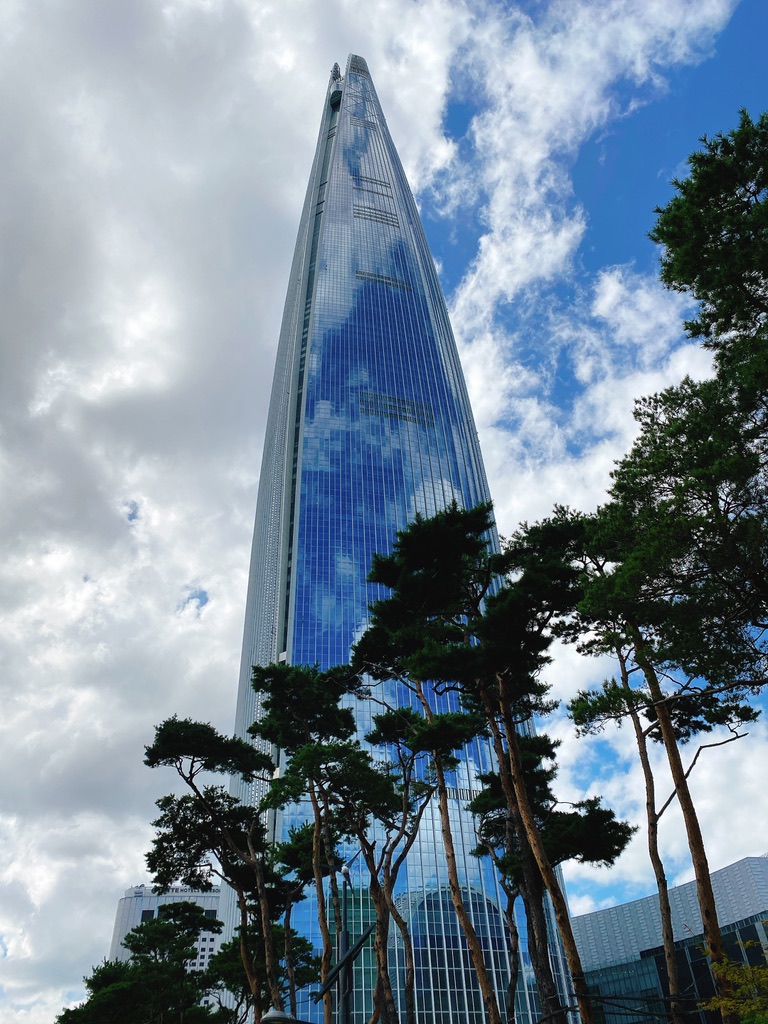 As Signiel Seoul is located within the tallest building in Korea, you can enjoy the best views of the city. There are 235 rooms with panoramic views of cityscape on floors 87 through 101 and these room are equipped with modern furnishings.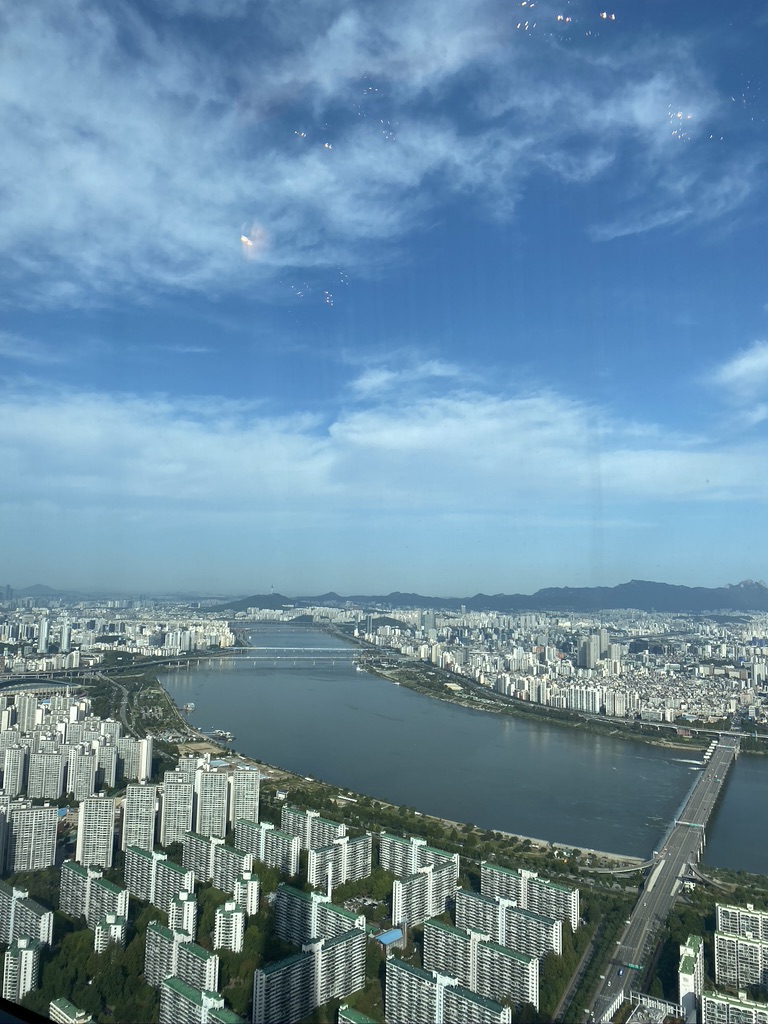 When you first get into the building, you can find an elevator to get to the lobby for check-in. You can get to 79th floor for check-in.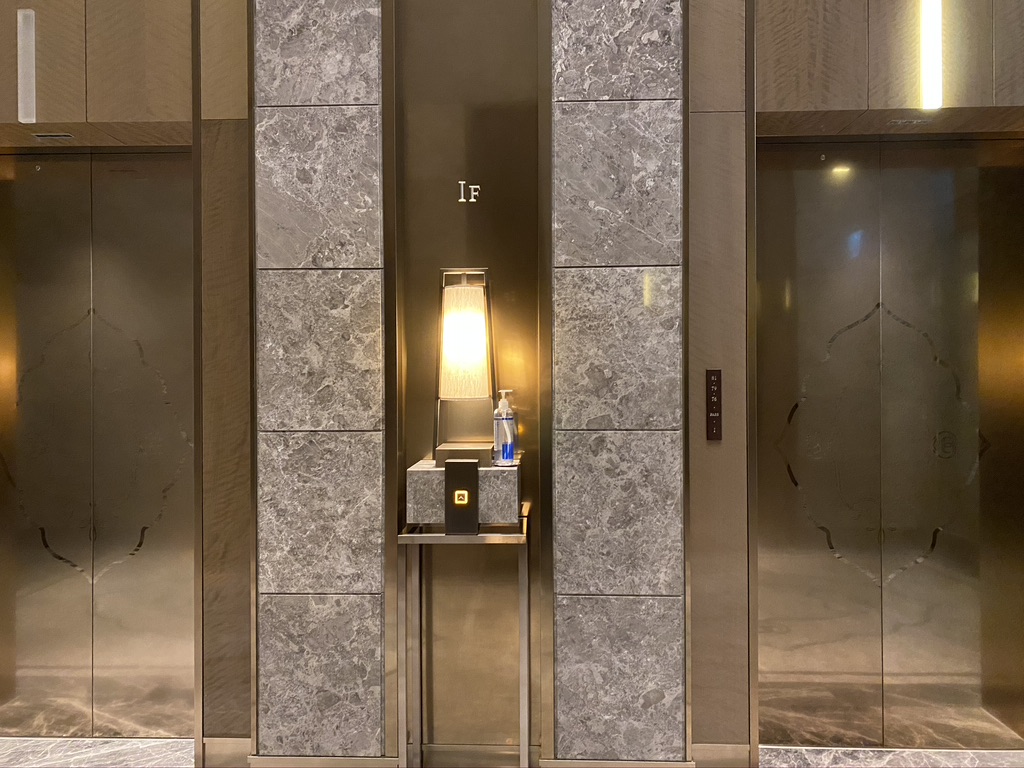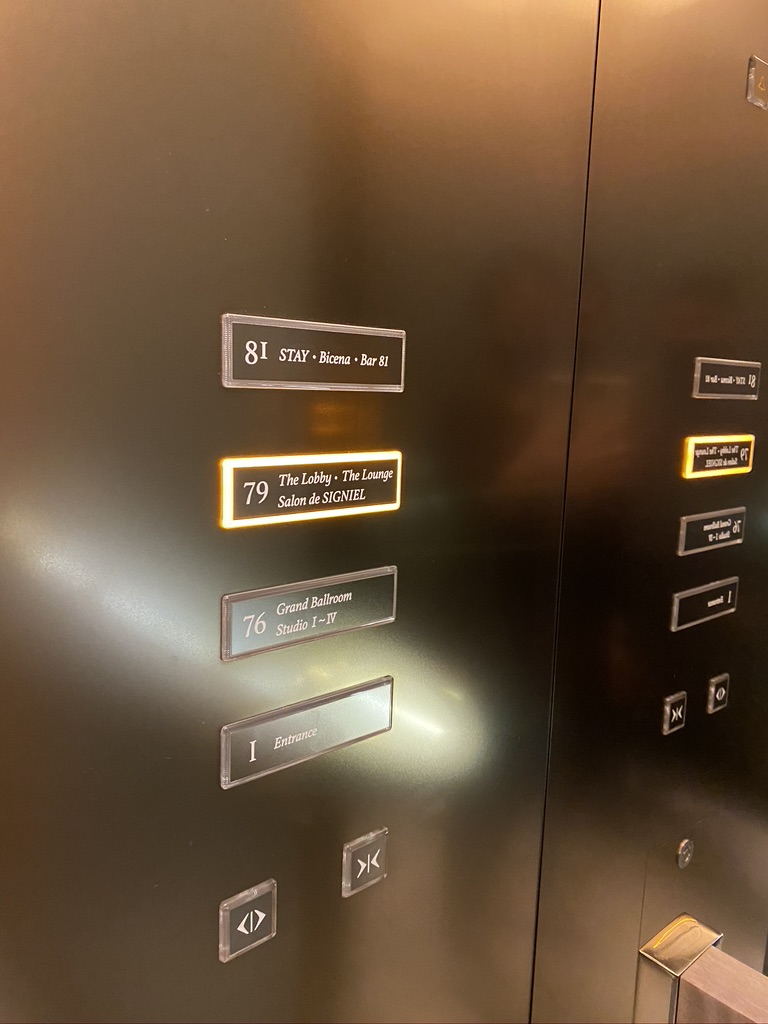 Here is a check-in lobby where you can also enjoy an incredible view from the hotel. After your stay, this is also a place for check-out. There is a express check-out at Signiel Seoul so you can choose from express check-out or check-out at the lobby.
On the 81st floor, there are places for dining and pub which are Stay, Bicena and Bar 81. Stay is a French restaurant, Bicena is a Korean restaurant and Bar 81 is a pub where you can enjoy your time with an amazing view from the 81st floor.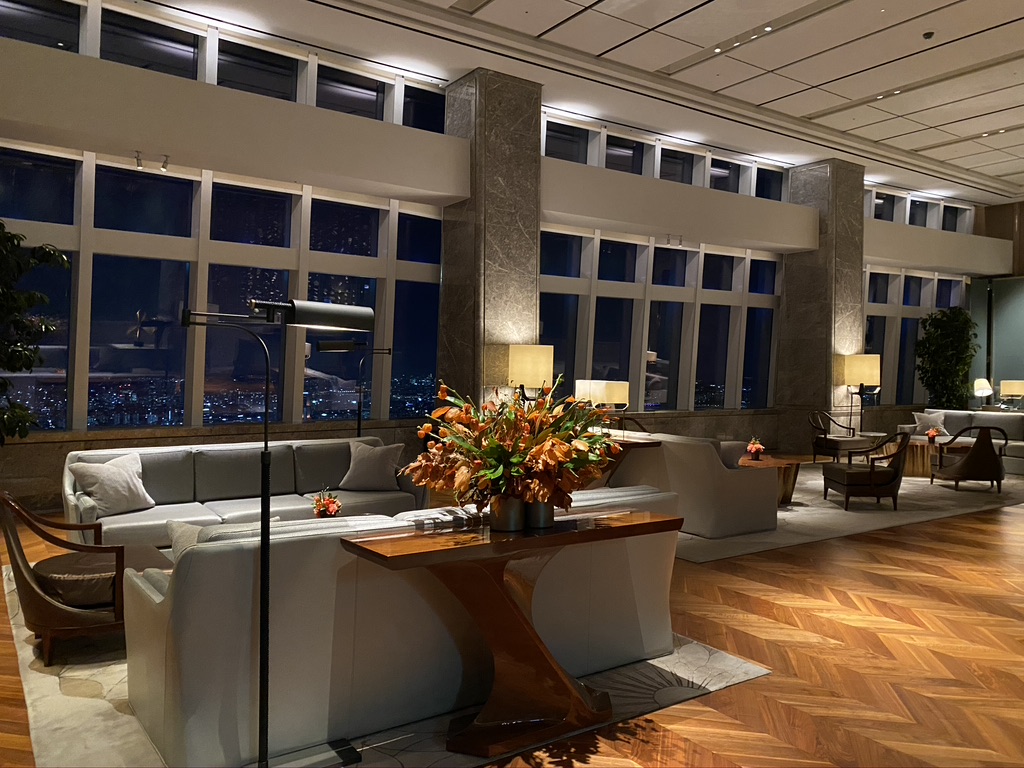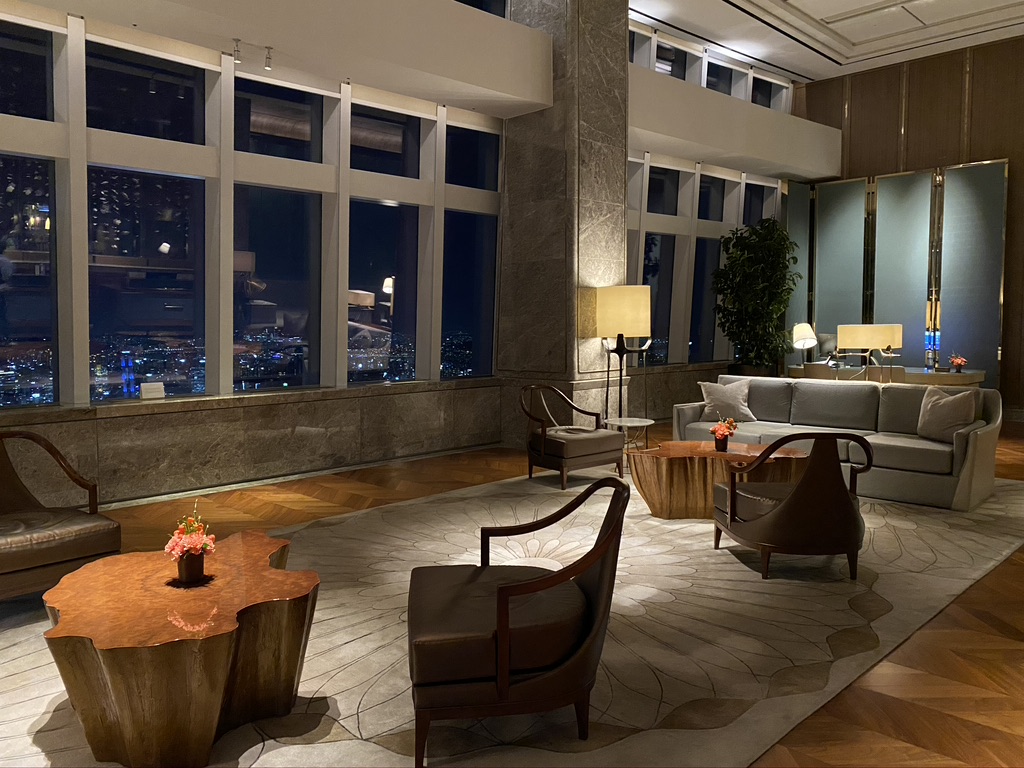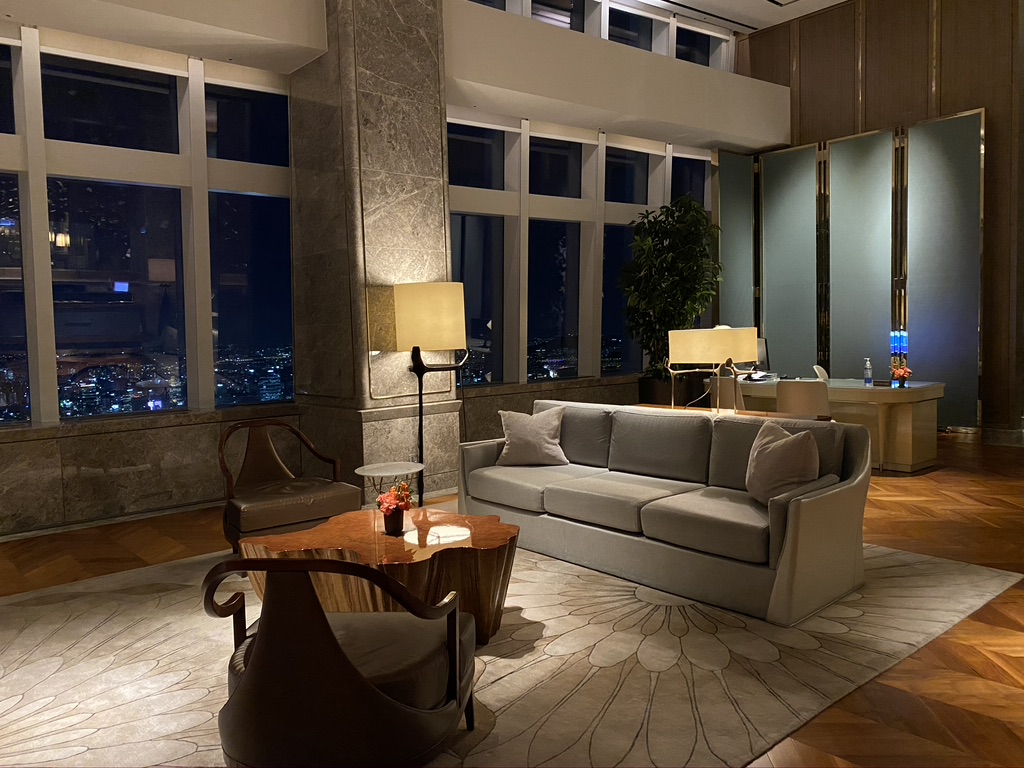 There are several room types in Signiel Seoul - Grand Deluxe Room, Premier Room, Signiel Premier Room, Deluxe Suite Room, Premier Suite Room, Korean Suite Room, Presidential Suite Room and Royal Suite Room.
The bed type, view, occupancy and size are all different among these room types so you may need to choose the room type depending on your trip style.
The photos of rooms below are Signiel Premier Room type. The special features of this room are superior premium beddings (Selection of pillow is available), panoramic views of the Seoul Skyline, free access to guest lounge called "Salon de Signiel", complimentary use of fitness center and free Wi-Fi.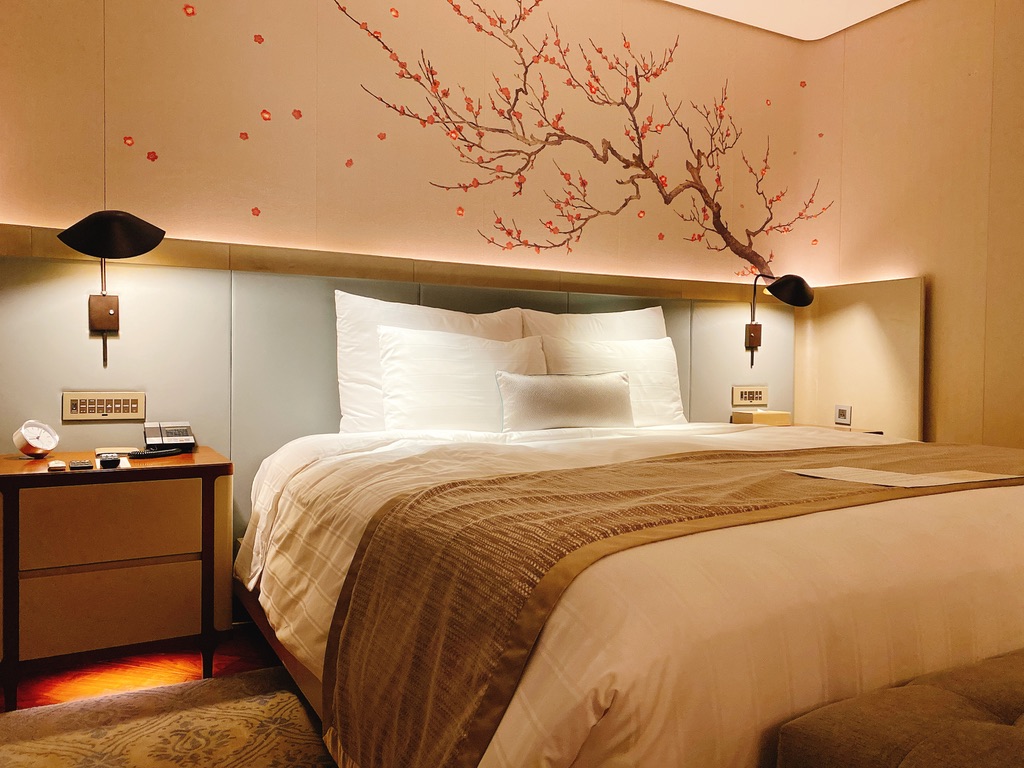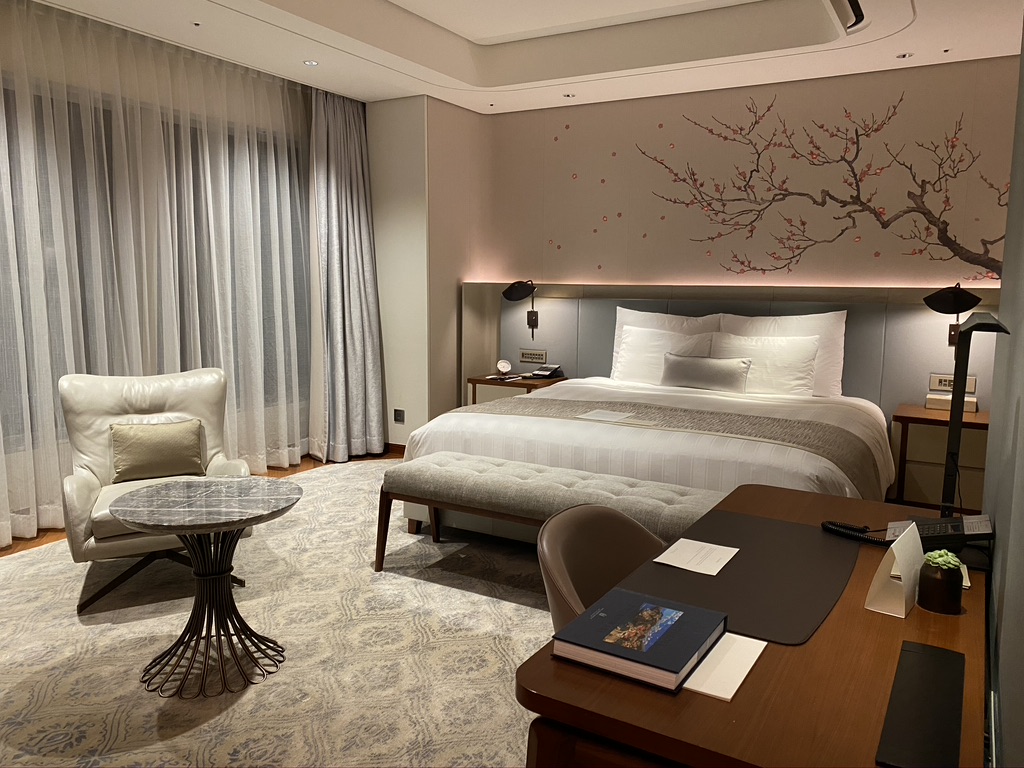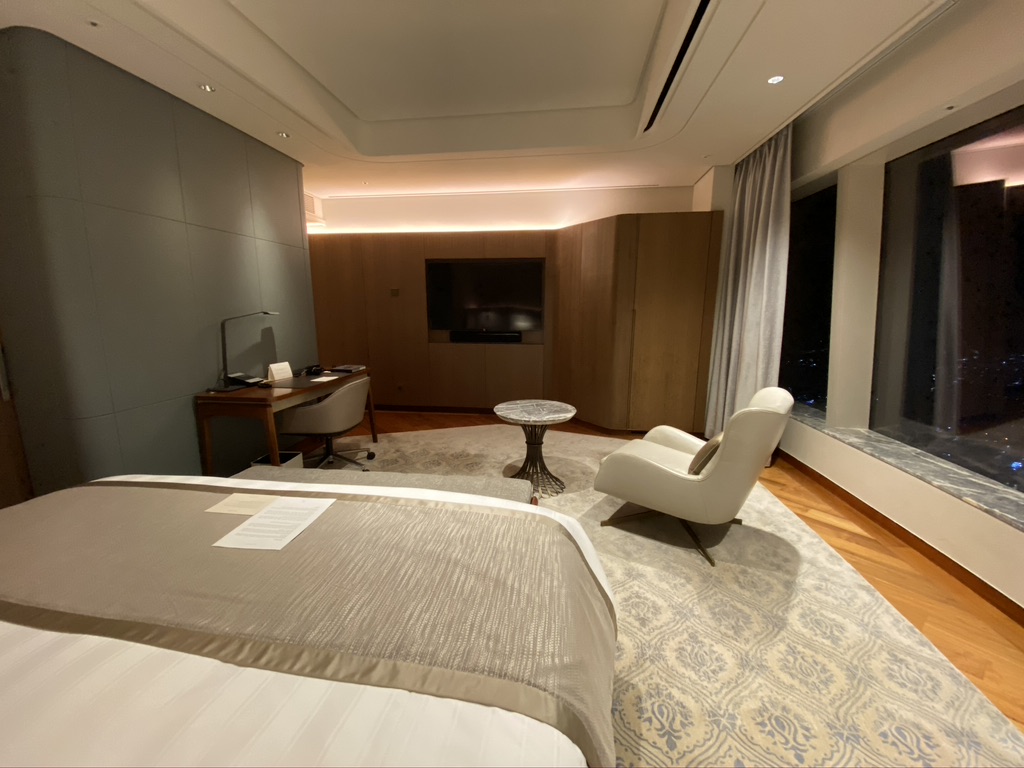 There is a spacious bathroom in the room and you will be impressed with the amenities in the bathroom. There are Diptyque (luxe French brand) shampoos, conditioners, body wash, soap and body lotion.
Additionally, basic amenities are there for you - The dental kit, shower cap, hair brush and shaving kit.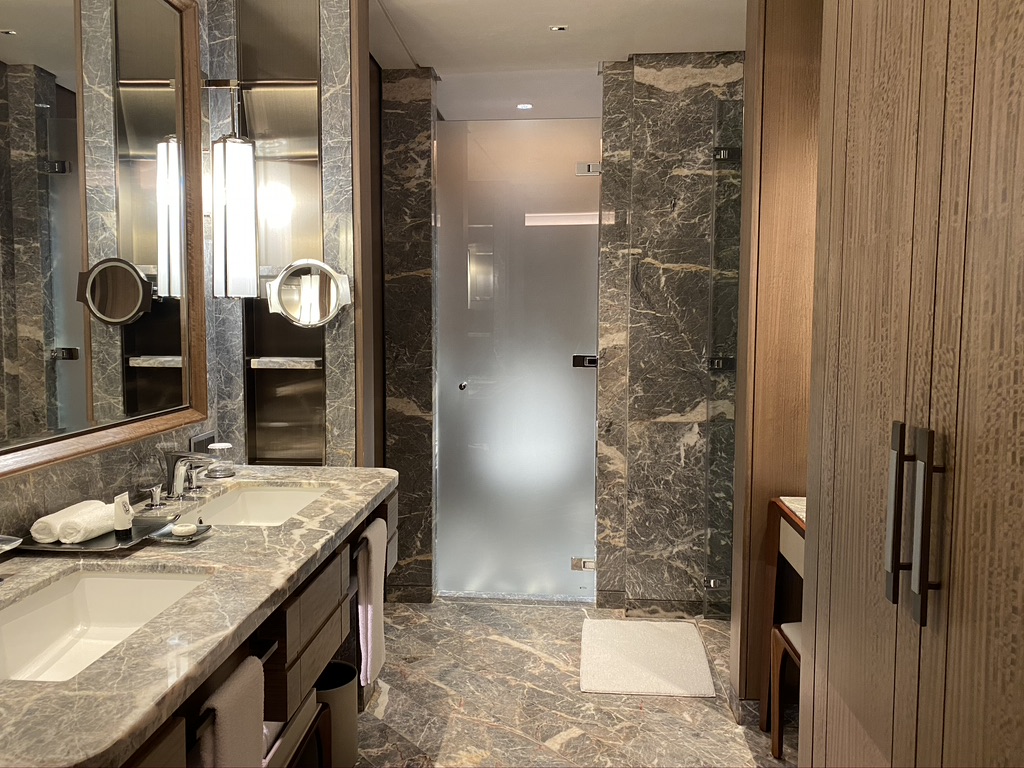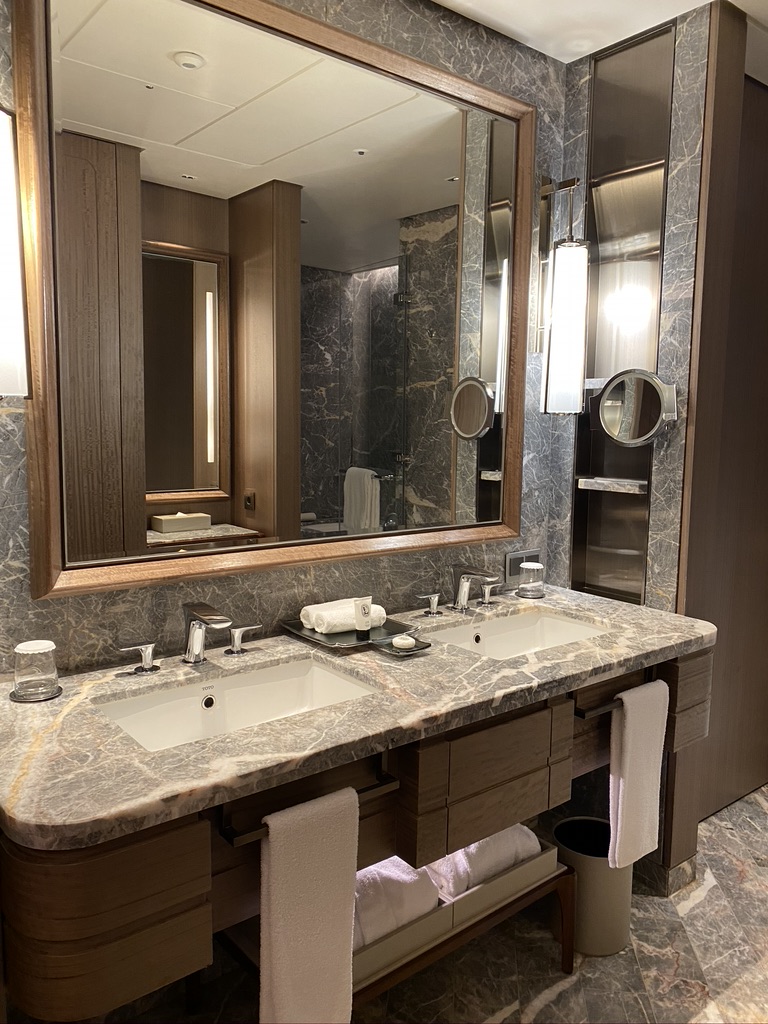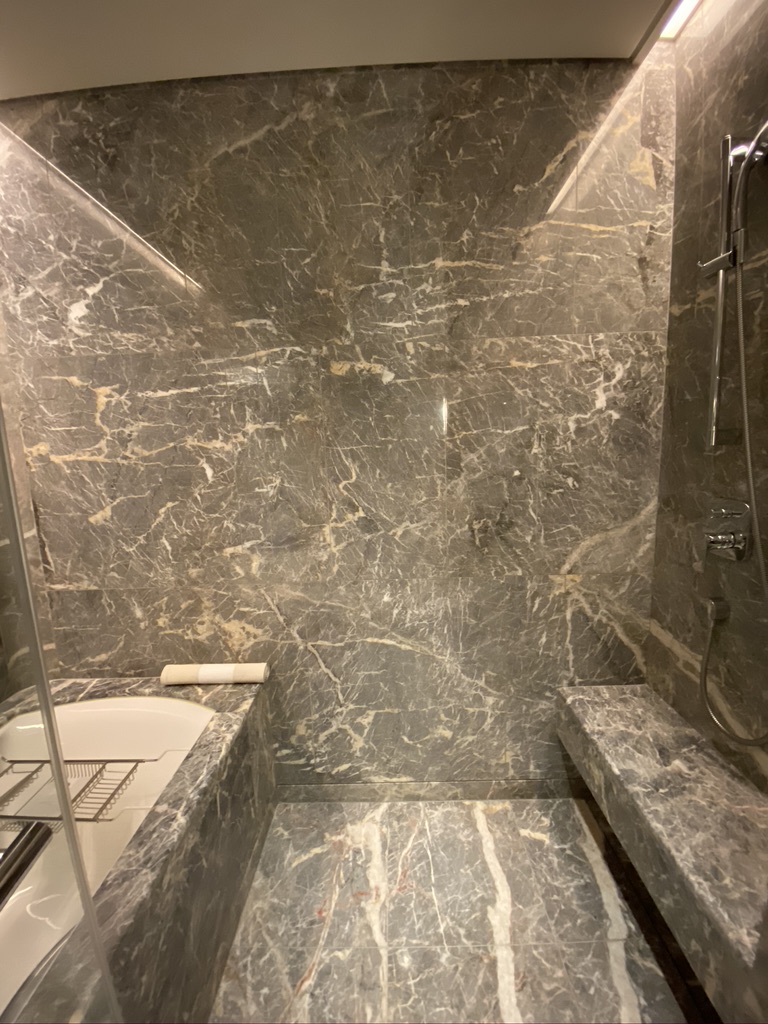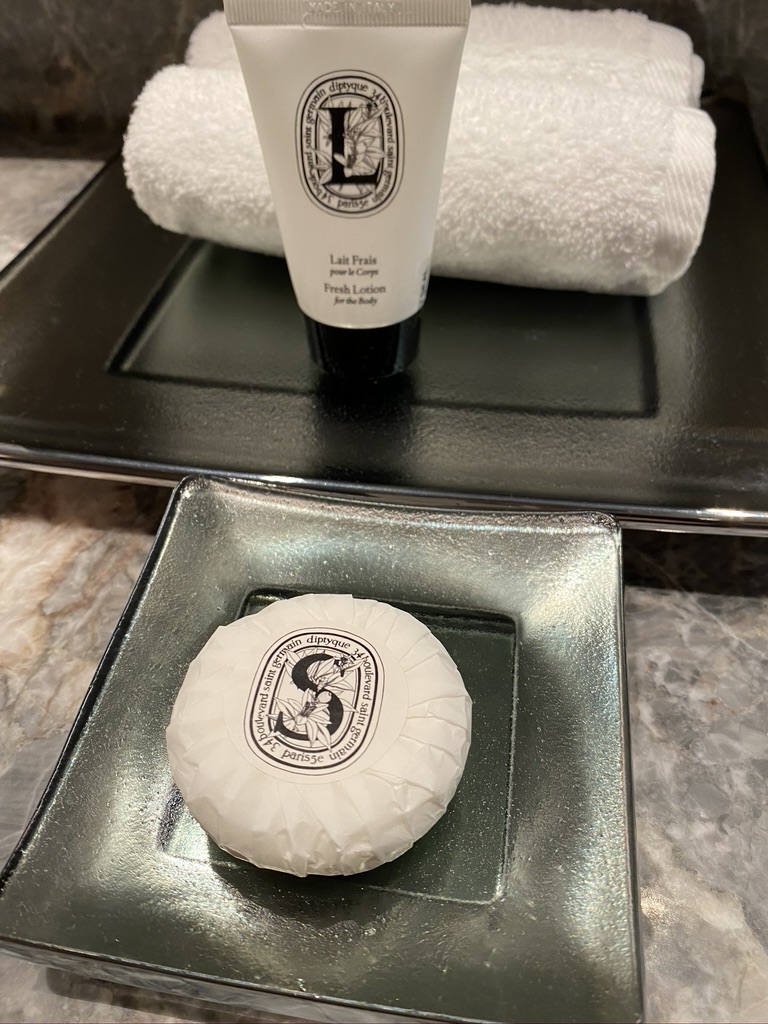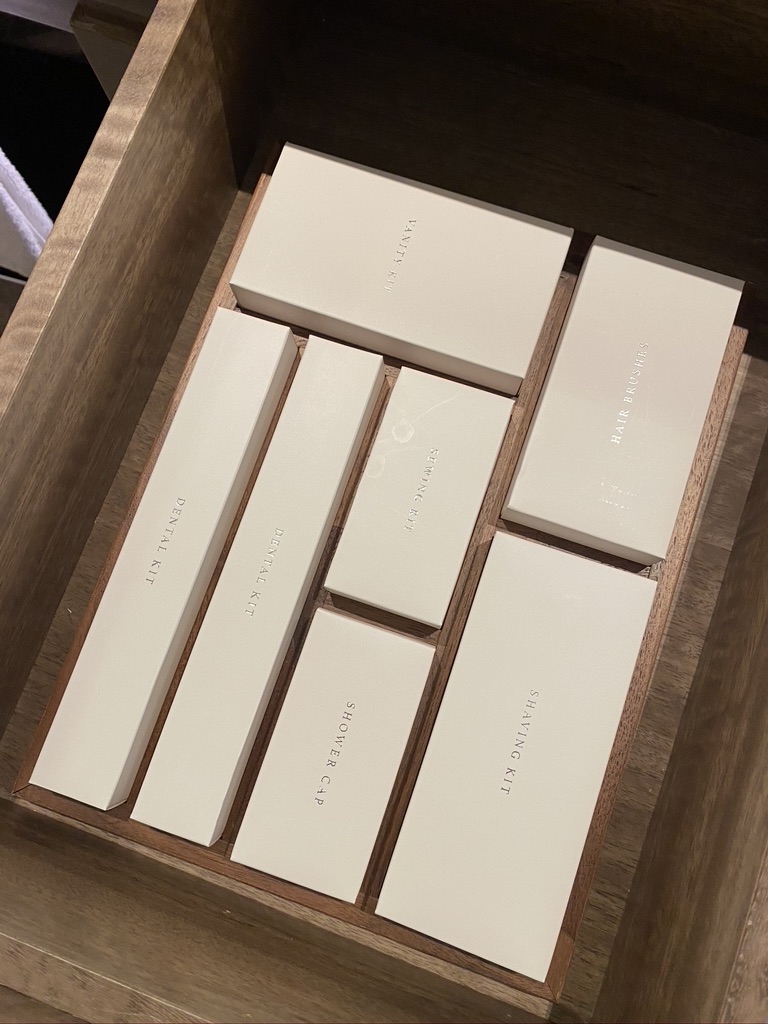 When you get into the room, you will get a "Welcome Tea" and cookies that make you more relaxing and comfortable.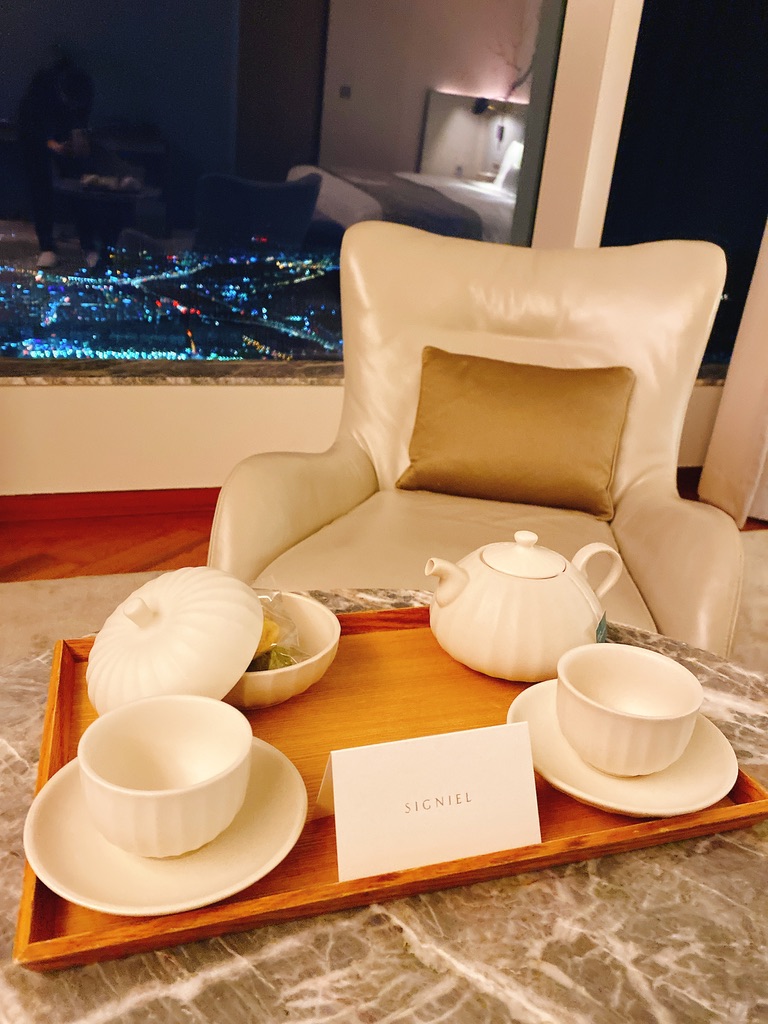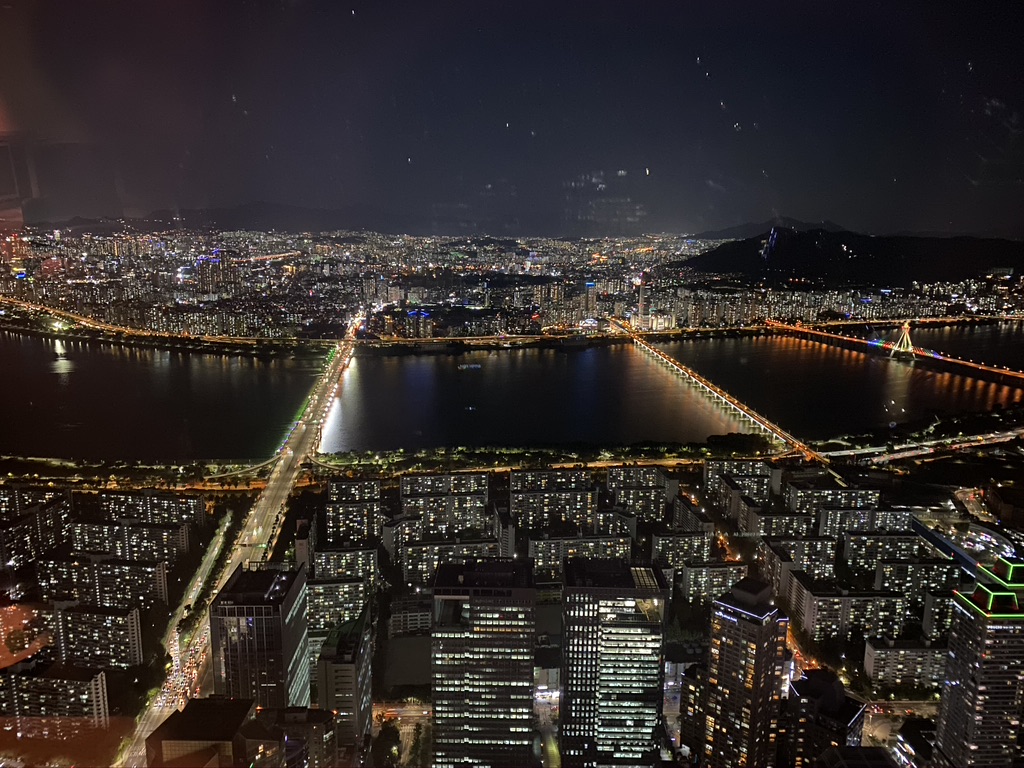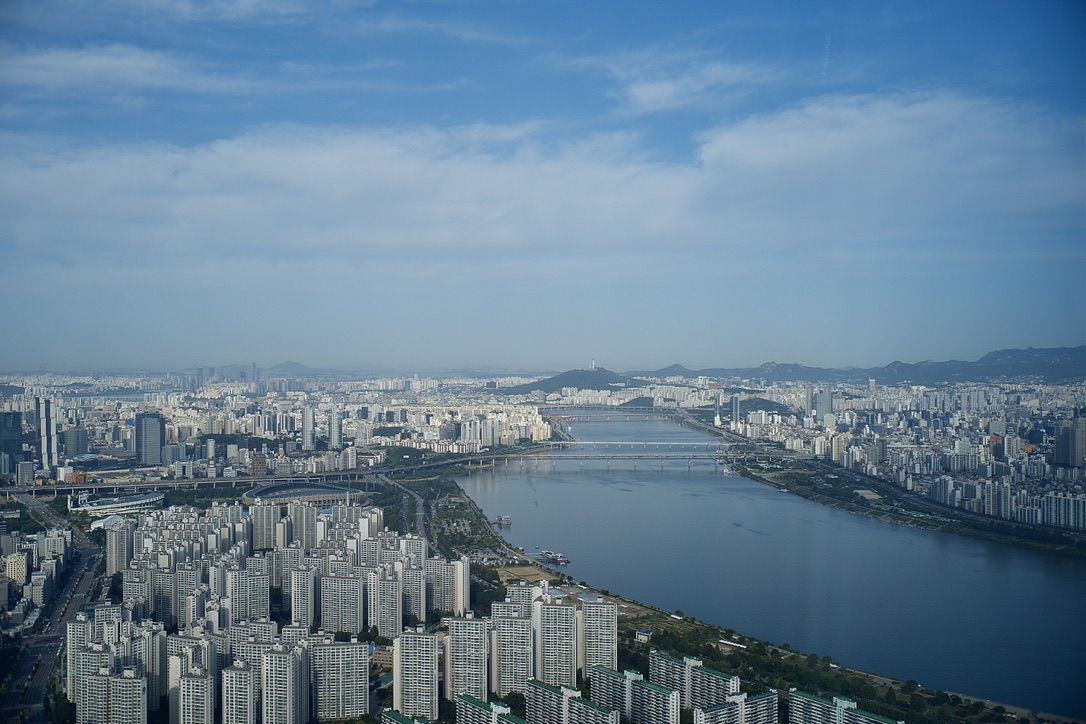 On the 79th floor, there is a guest lounge and you can enjoy complimentary beverages and snacks here. iMac computers and printer are equipped in this lounge so you can visit the lounge when you need to use a computer or a printer. Also, there are some books and magazines for you so you may spend your time reading books here. You can enjoy your time at the guest lounge with a wonderful Hanriver view.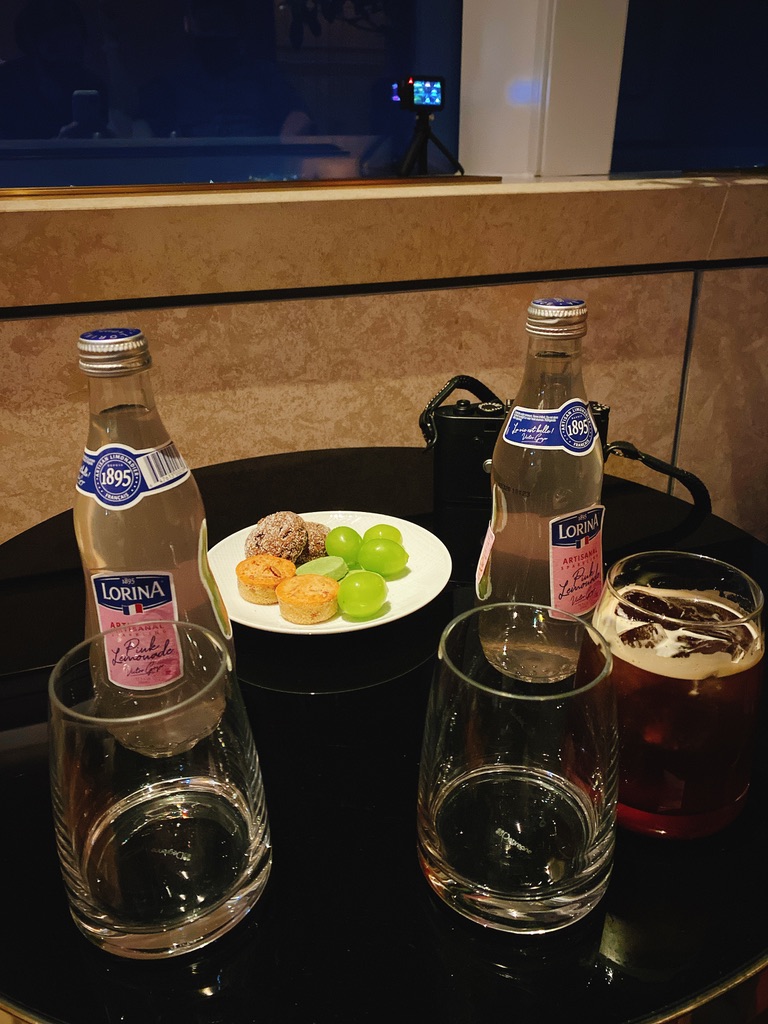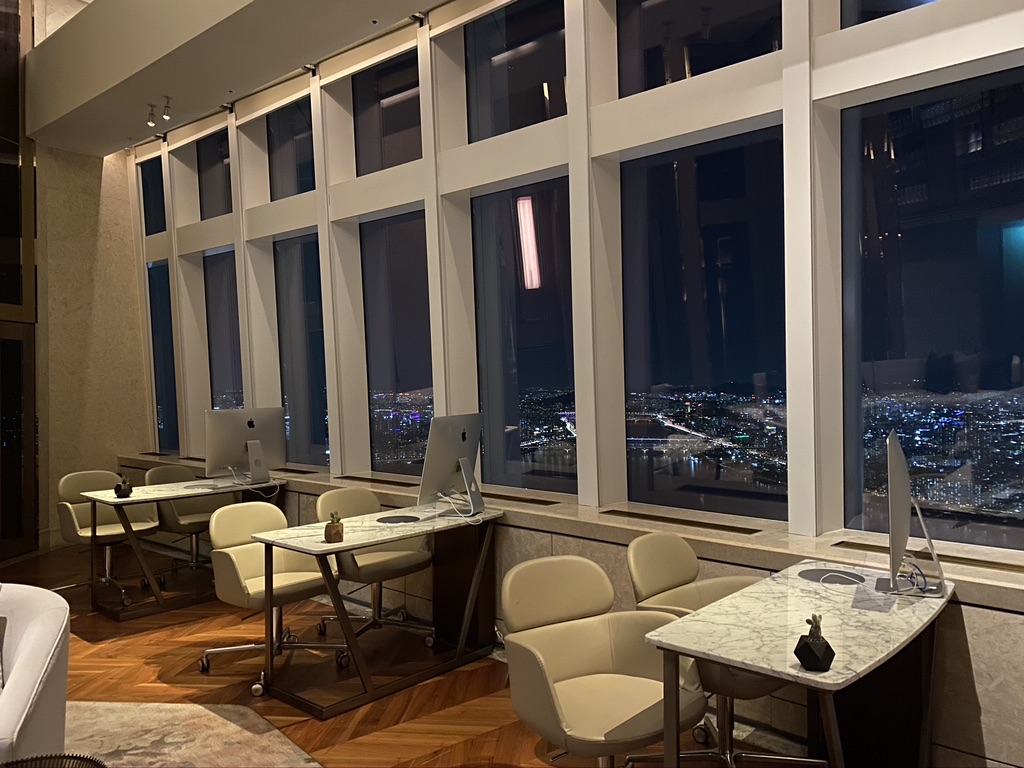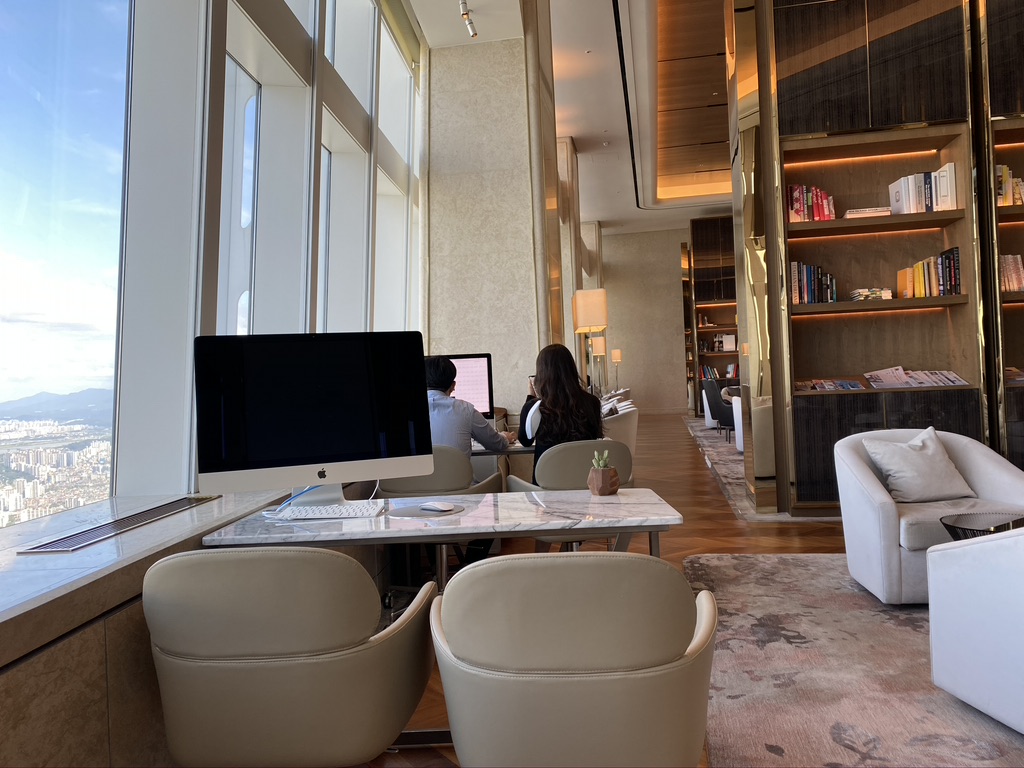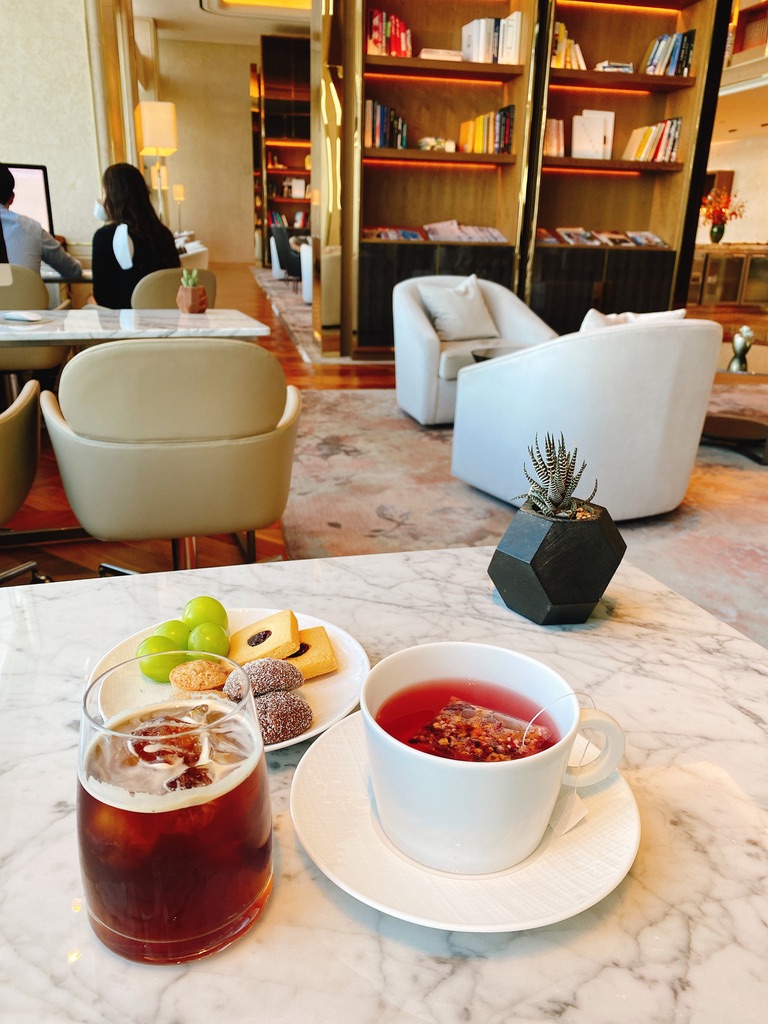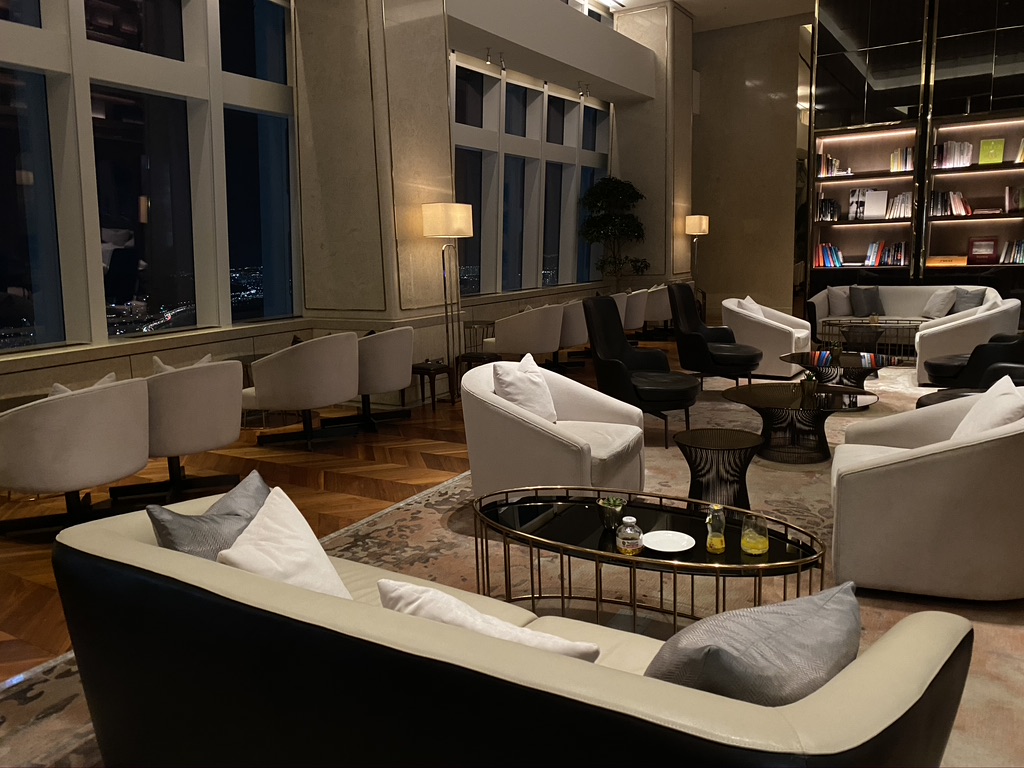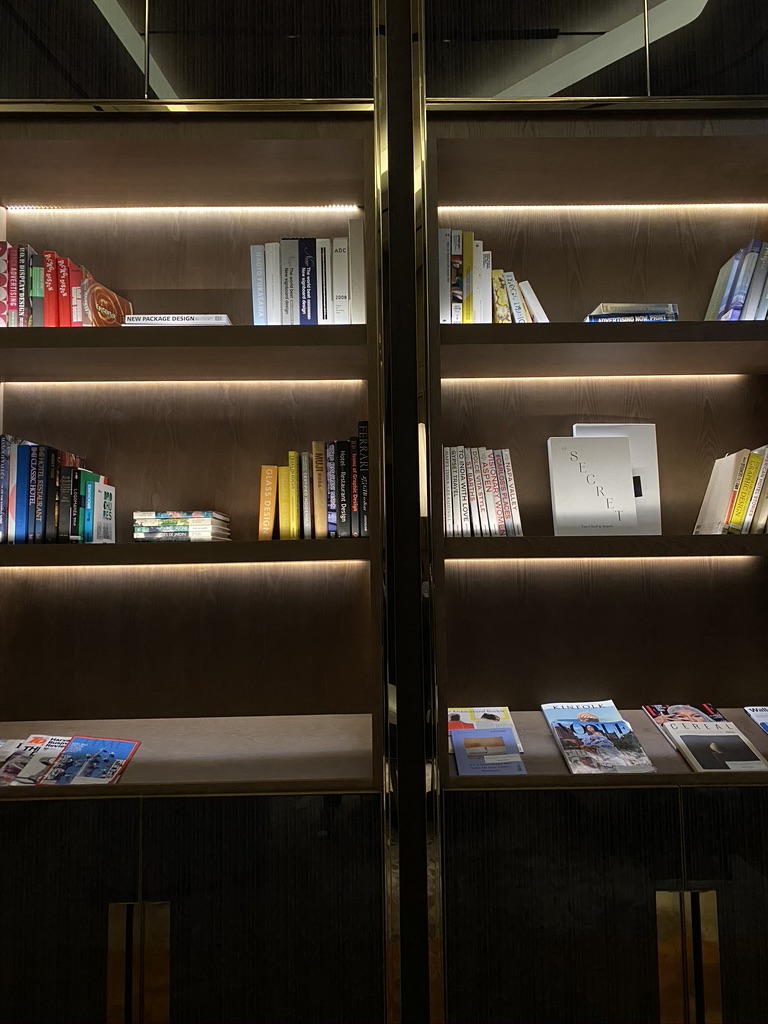 Room-dining services are also available so you may find a menu and order your favorite dish and enjoy the room-dining. The photo below shows a Beef fillet, Creamy Black Pepper Sauce (Hanwoo 1++) with Soft Mashed Potatoes and Green Salad and Potato Gnocchi with Pesto and Tomatoes.
A beef fillet is a tenderloin steak (120,000 KRW) and a potato gnocchi is 32,000 KRW.
There are various kinds of menus so you may need to have a look at the menu and choose your favorite dish.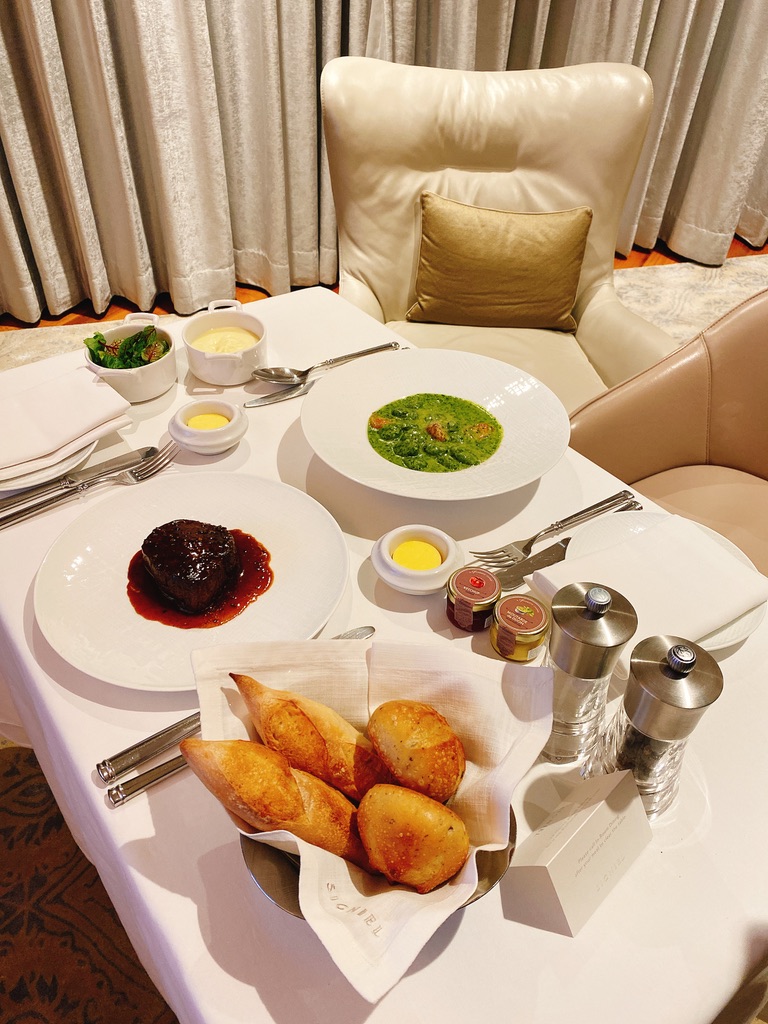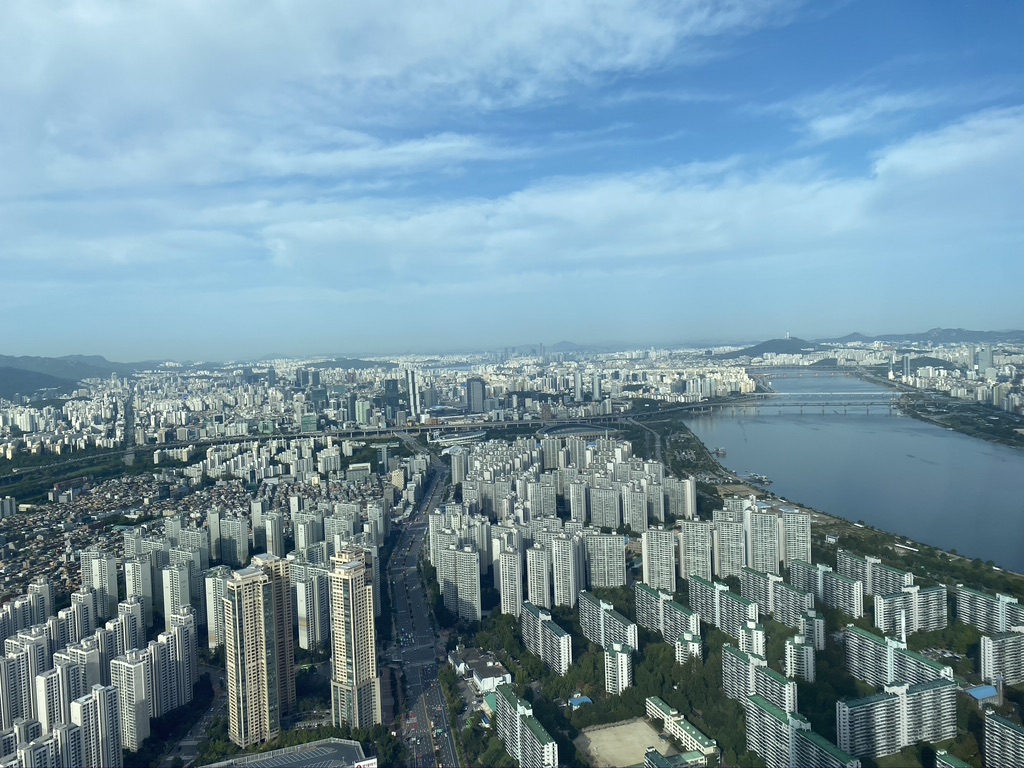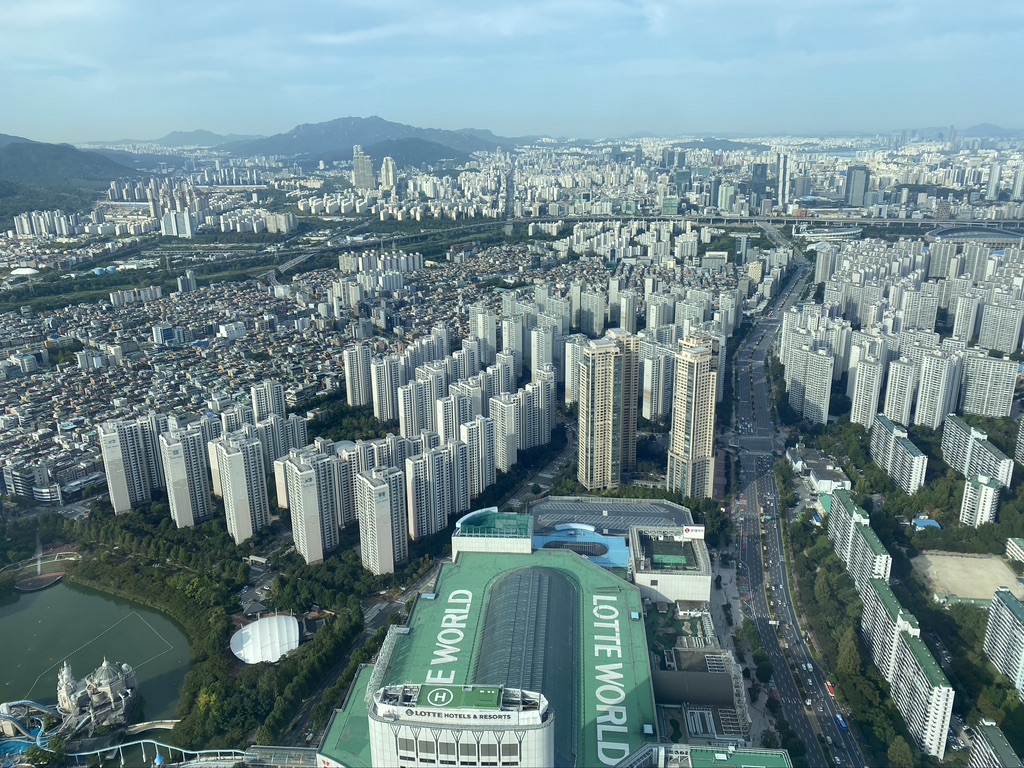 When you book for the room at Signiel Seoul, you can choose whether to include your breakfast meal. If you choose to include it, you can enjoy a buffet style breakfast in general but the breakfast is served by staff these days due to Covid-19.
Korean-style and western-style dishes are served so that all of the guests can enjoy breakfast. The breakfast is served at the restaurant called "Stay" which is a French restaurant (A Michelin Guide Restaurant) in the hotel.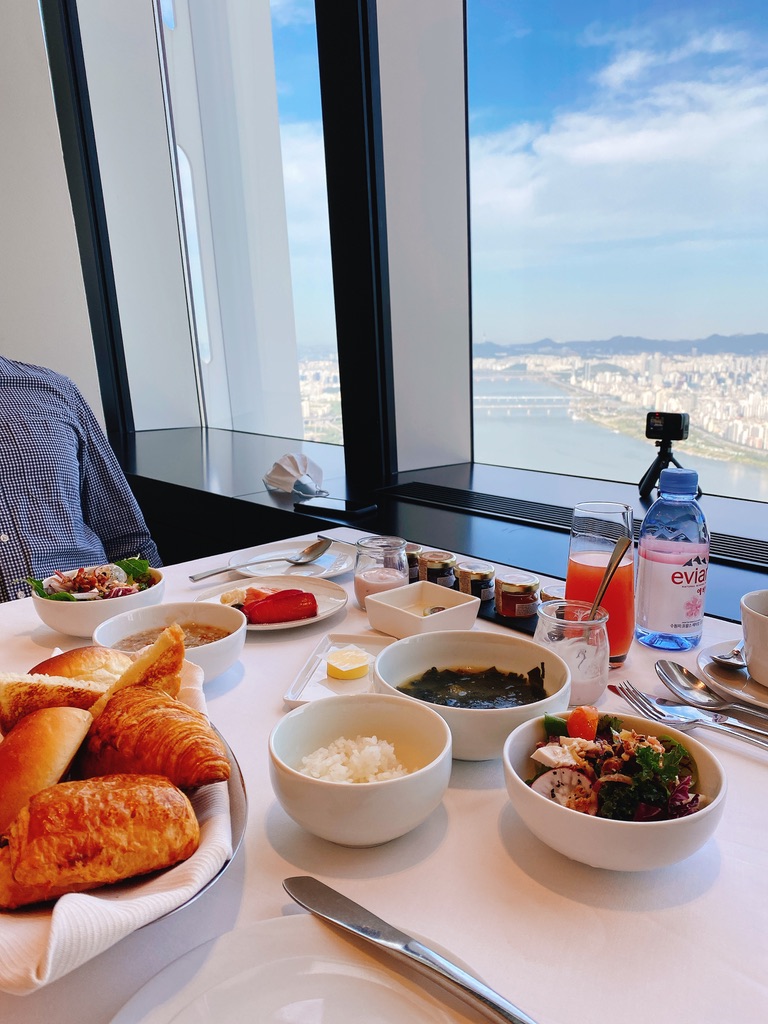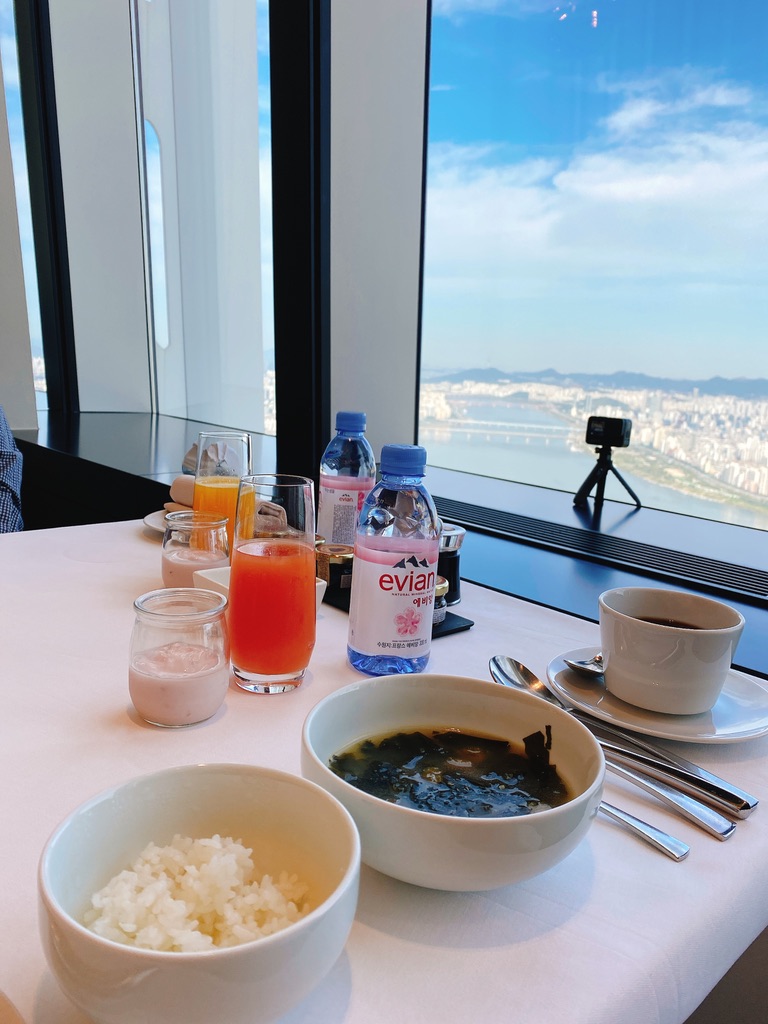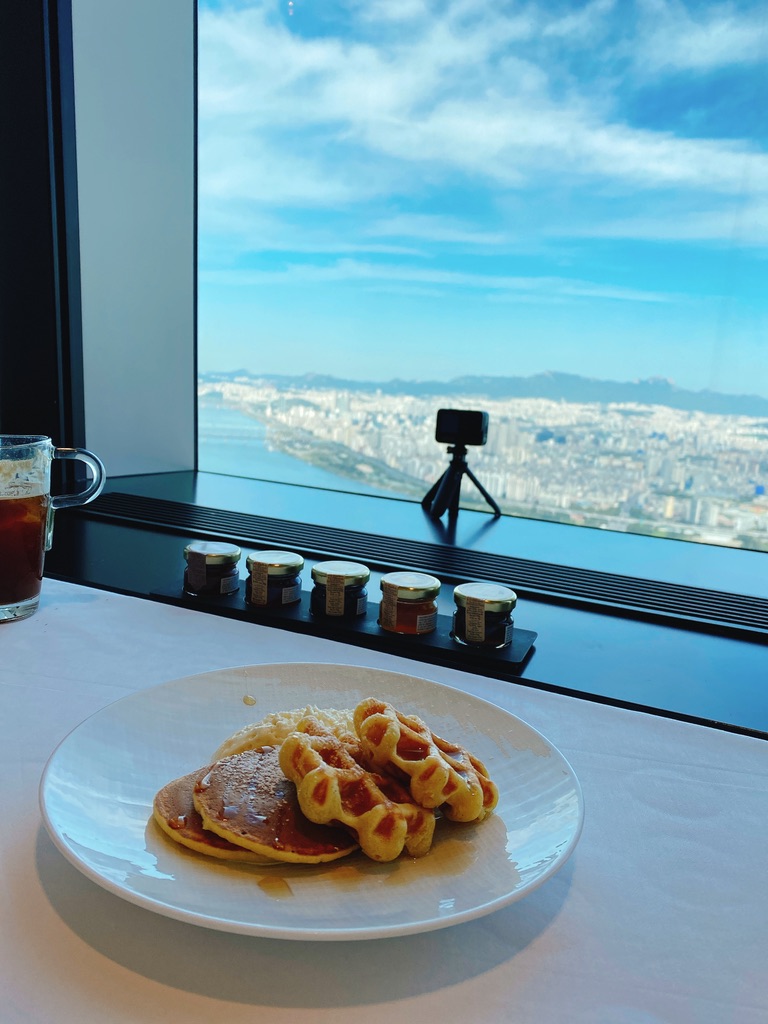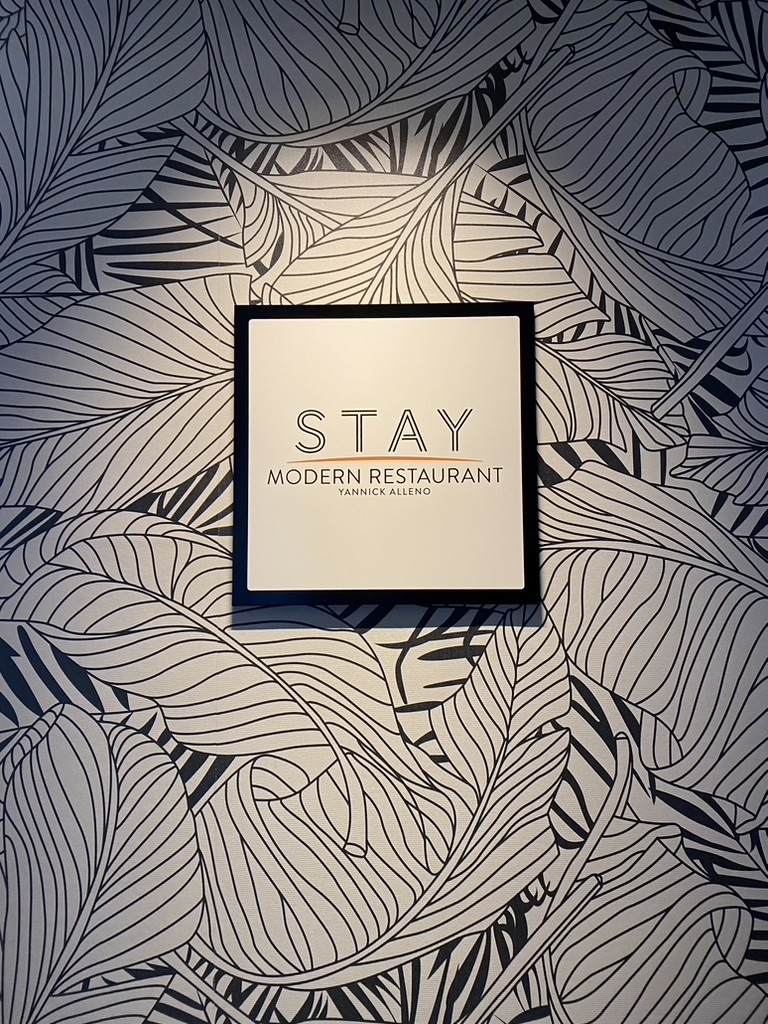 There are spa, swimming pool and fitness facilities at Signiel Seoul. There is Evian Spa that have six treatment rooms, private locker and shower rooms. You can expect steam room, sauna, jacuzzi and pool in Evian Spa.
There is an indoor swimming pool with wide oversized window that you can admire a gorgeous city landscape.
Also there is a gym (fitness center) for workout, equipped with 60 machineries and a sauna of both wet and dry.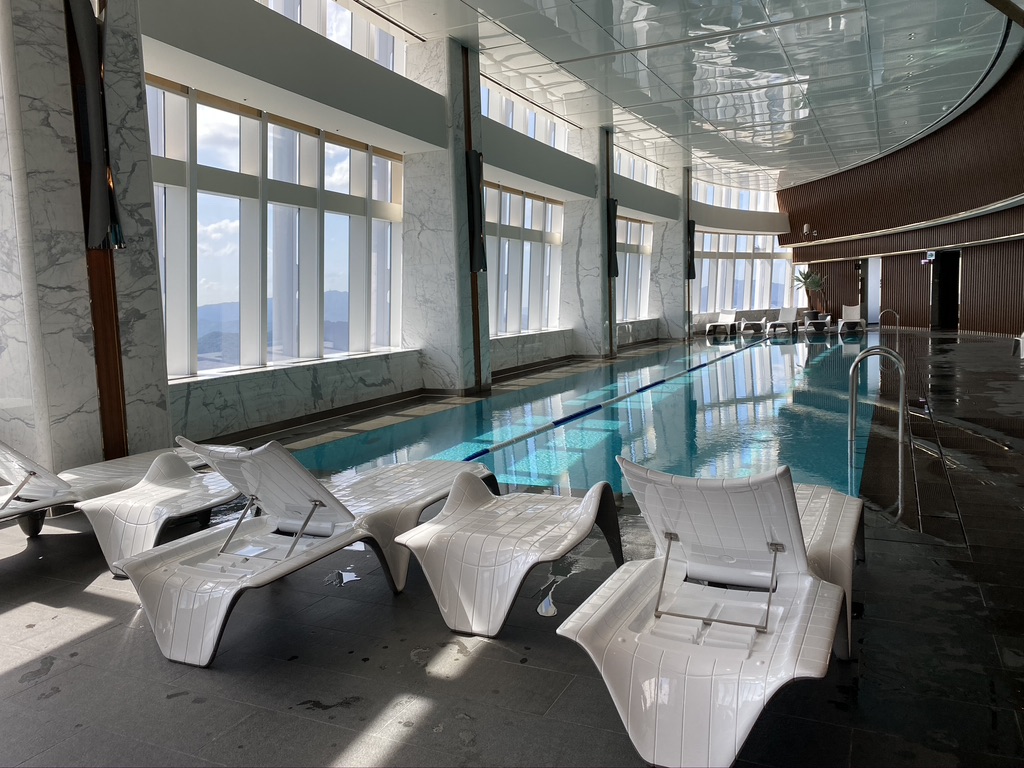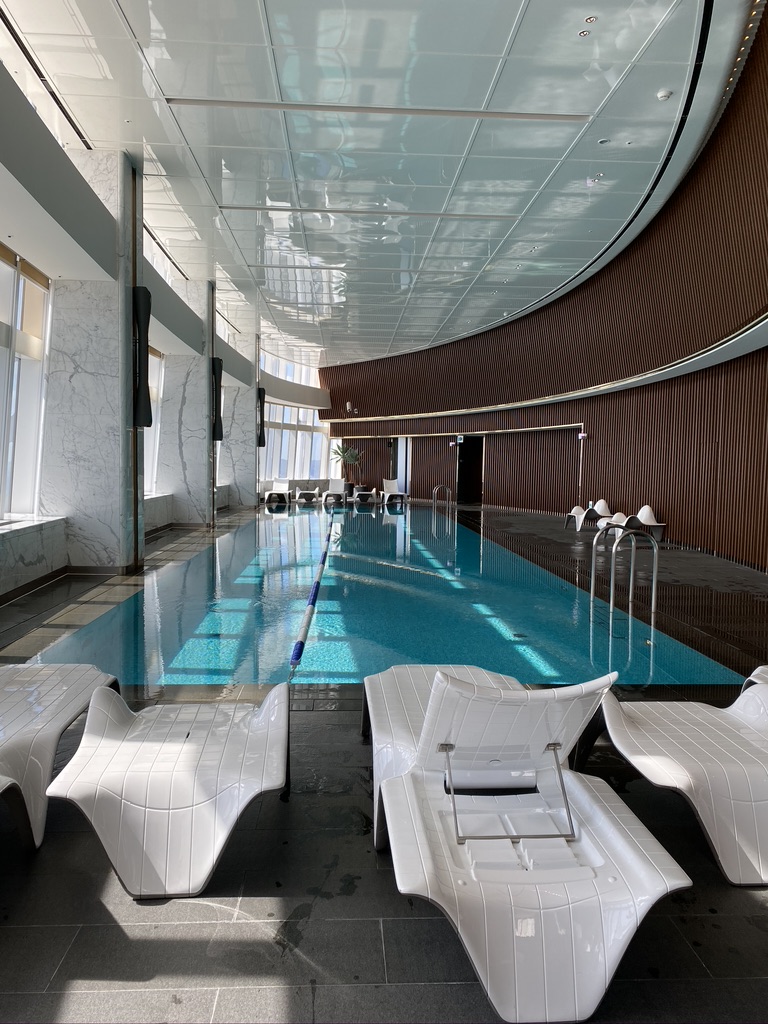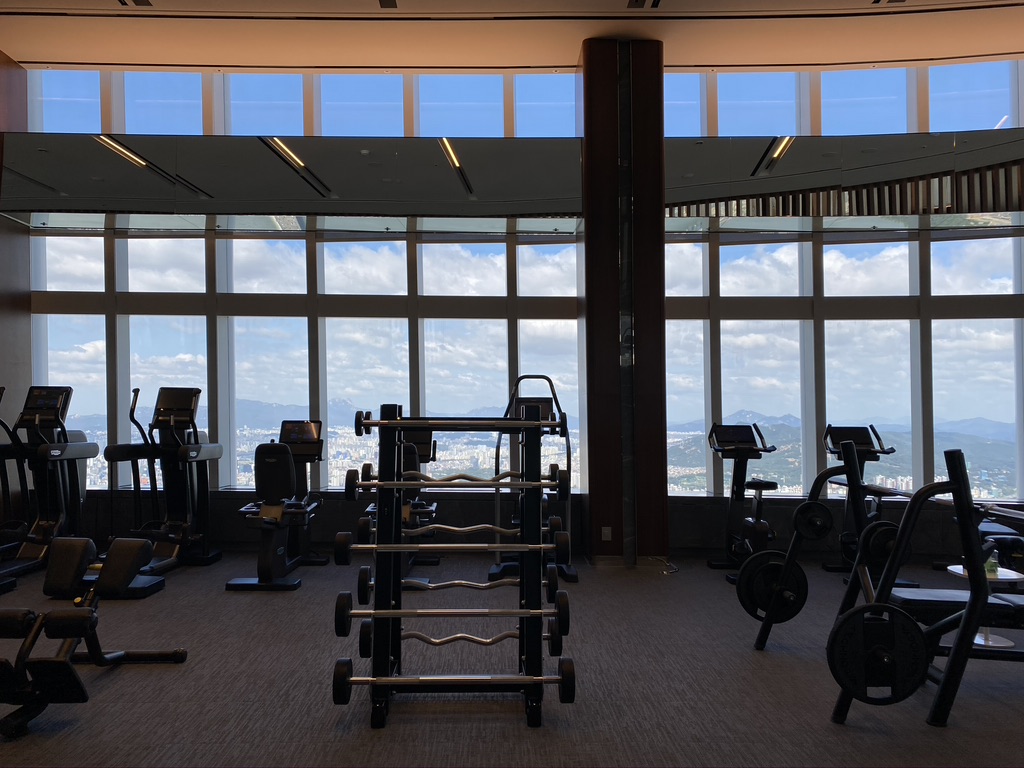 As Signiel Hotel offers a premium hospitality services, top dining services and prestigious facilities, we recommend you to stay here when you are traveling Korea. This hotel provides a wonderful view of cityscape so it gives you a fulfilling time during your stay.
---
You may also like other Ella's Pick -
[FOOD: Restaurants, Korean dishes, Cafes] - Cafe Knotted Seoul - Donut cafe newly opened in Jamsil
[TRAVEL: Tour sites, Travel info, Hotels] - Olympic Park Seoul - A Large Park in Sonpa-gu, Seoul KOREA
[FOOD: Restaurants, Korean dishes, Cafes] - Myungrang Hot dog - Unique Korean-style hot dogs
[FOOD: Restaurants, Korean dishes, Cafes] - Terarosa Coffee - A great place for you to enjoy coffee in Gangneung
newtip.net/click.php?m=agoda&a=A100670158&l=0000
---
(We may receive commissions from this posting as it includes affiliate marketing advertisement. 이 포스팅은 제휴마케팅이 포함된 광고로 일정 커미션을 지급 받을 수 있습니다.)
(This posting involves in participation of LinkPrice event. 이 포스팅은 링크프라이스 이벤트 참여를 위해 작성되었습니다.)