General information - South Korea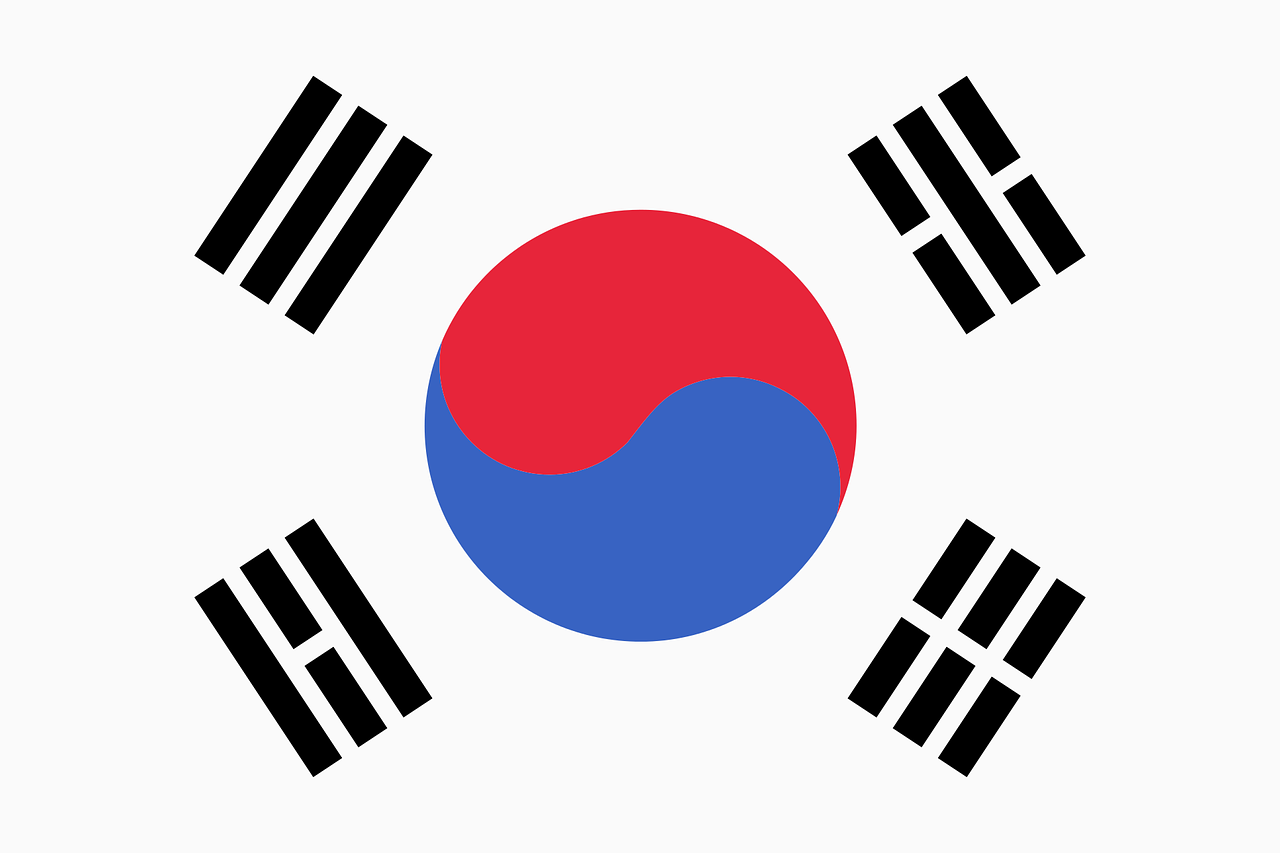 Do you know national anthem, flag and flower of Korea? Today, we are going to provide general information of Korea. Firstly, let us see the national symbols of the republic of Korea.
National anthem: "Aegukga (애국가 in Korean)" is a national anthem of South Korea. It means "a song that shows a love toward their country". The song "Aegukga" was adopted in 1948 and has four verses.
National flag: "Taegeukgi (태극기 in Korean)", a national flag of Korea shows a circle in the center of flag and surrounded by four black trigrams in each corner on the white background. A circle in the center is divided into two parts (red and blue). The upper red part represents the postive cosmic forces (yang) and the lower blue part represents the negative csmic forces (yin). The four black trigrams represent sky, earth, water and fire and the white background represents brightness, purity and peace. These all together create harmony and balance.
National flower: "Mugunghwa (무궁화 in Korean)", the rose of Sharon is a national flower of Korea. Mugunhwa has a meaning of "Eternal blossom that never fades".
Secondly, do you know the population of South Korea? It is estimated at 51.3 million people as of September 2020. It is equivalent to 0.66% of the total world population. 81.8 percent of the population is urban.
Thirdly, we are going to provide administrative divisions in South Korea. Seoul is a capital city and a special sity which is called "Teukbbyeolsi (특별시 in Korean)" in South Korea. There are 8 provinces of Gyeonggi, Gangwon, North Chungcheon, South Chungcheong, North Jeolla, South Jeolla, North Gyeongsang and South Gyeongsang provinces. Additionally, there are 6 metropolitan cities which is called "Gwangyeoksi (광역시 in Korean)" - Busan, Daegu, Incheon, Gwangju, Daejeon and Ulsan. There is 1 special self-governing city (Teukbyeol-jachisi, 특별자치시 in Korean) of Sejong and 1 special self governing province (Teukbyeol-jachido, 특별자치도 in Korean" of Jeju.
---
These general information that we provided above should help when you are traveling in Korea. Should you have any other information, please let us know via our email or messages. Thank you for your interest in Korea.
---
You may also like other Ella's Pick -
[TRAVEL: Tour sites, Travel info, Hotels] - Transportation system in South Korea - Subway, Bus, Taxi and Bike
[TRAVEL: Tour sites, Travel info, Hotels] - Currency in Korea - Korean "Won" (KRW, ₩)
[TRAVEL: Tour sites, Travel info, Hotels] - 4 Seasons in Korea