Glamtree - A glamping resort in Gapyeong, KOREA
For people who are willing to go to camping but do not have any camping gear, "Glamtree Resort (글램트리 리조트 in Korean)" is a perfect glamping place for you to visit.
---
Glamtree provides a private place to cook and enjoy barbecue and a large garden with hammock for you to relax. Additionally, there is a room fully equipped with a bed, television, kitchen and a restroom. This is the reason why we call this a "Glamping Resort". There is a large parking lot and the entrance of a Glamtree Resort.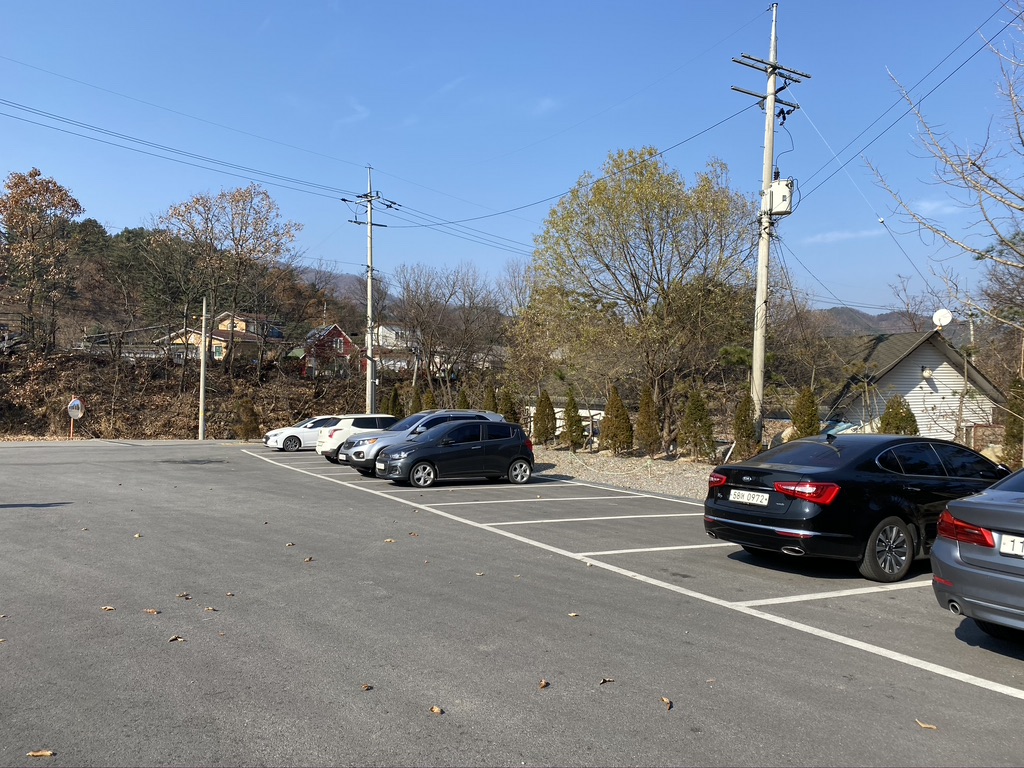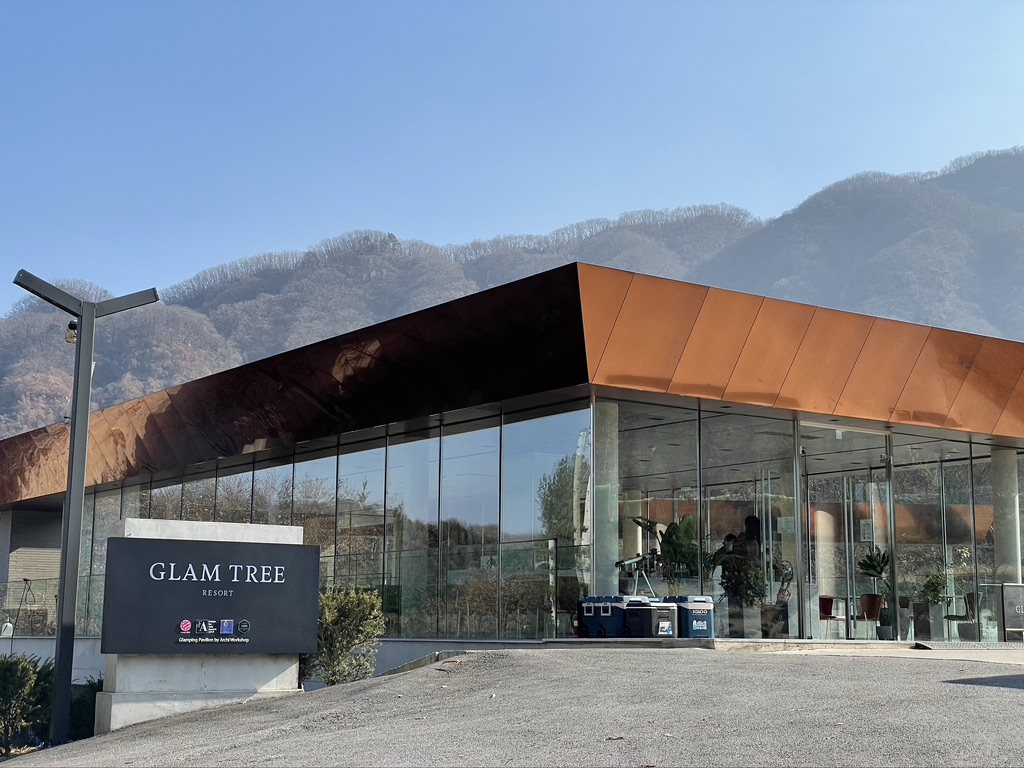 There is a cafeteria and check-in/out counter building at the entrance. You can get into the building for check-in and check-out of the room and also enjoy coffee or snack here.
You can enjoy coffee (Americano, Caffe Latte and Vanilla Latte) and non-coffee drinks (Lemonade, Lemon Tea, Plain Yogurt Smoothie, Hot Chocolate, Peach Ice Tea and Peppermint) here. Also, there are some pizza and chicken menus here.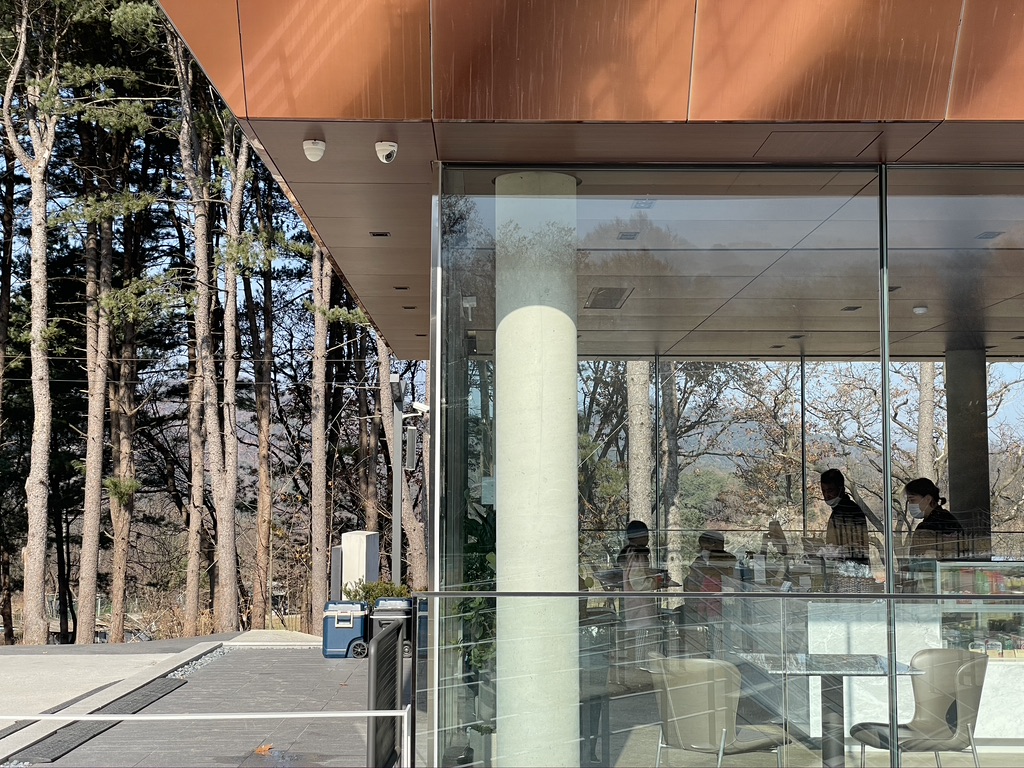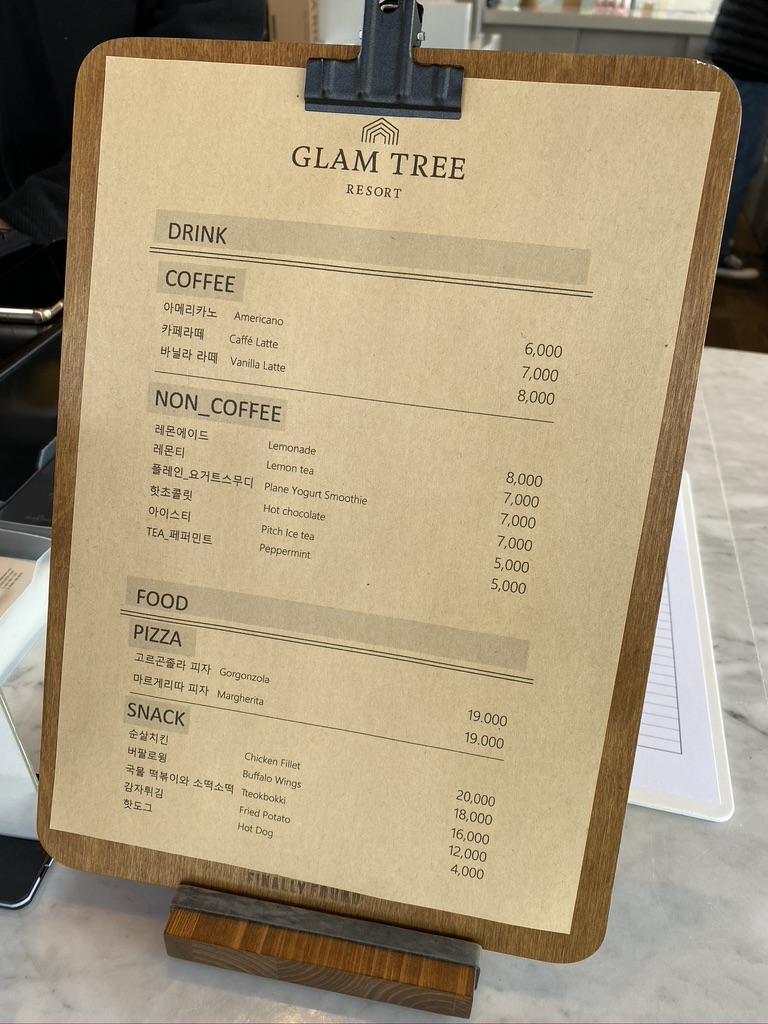 When you check-in, you will get a "Welcome Drink Coupon" so you may choose a complimentary drink from Americano, Cafe Latte, Ice Tea, Yogurt Smoothie and Herb Tea.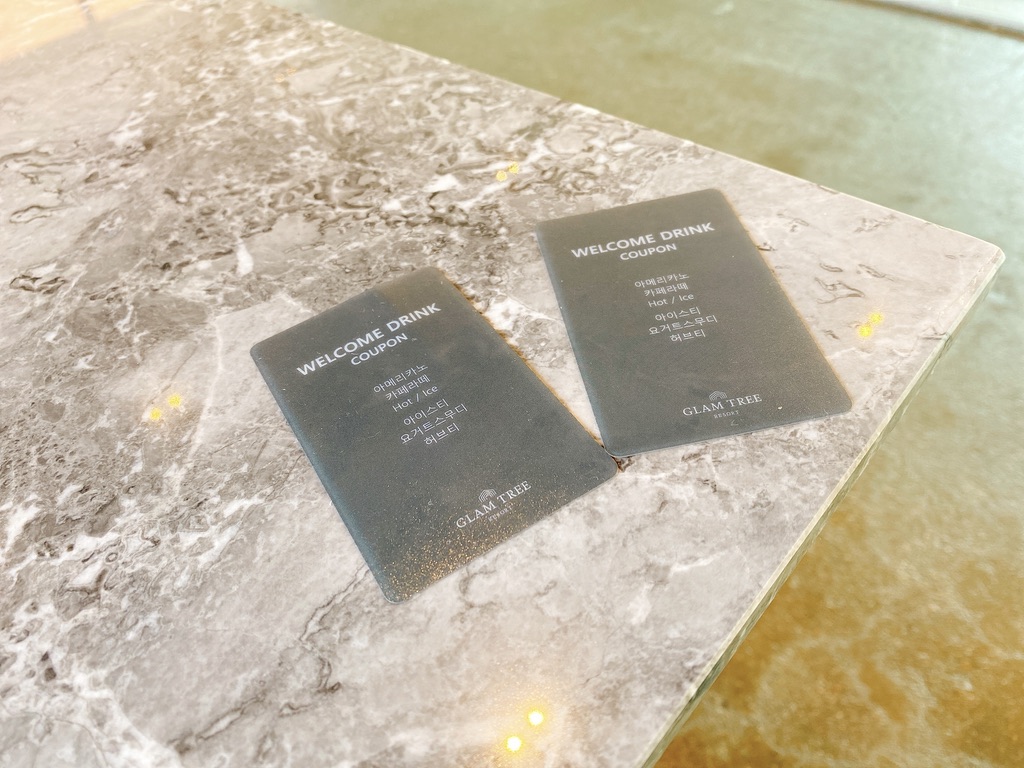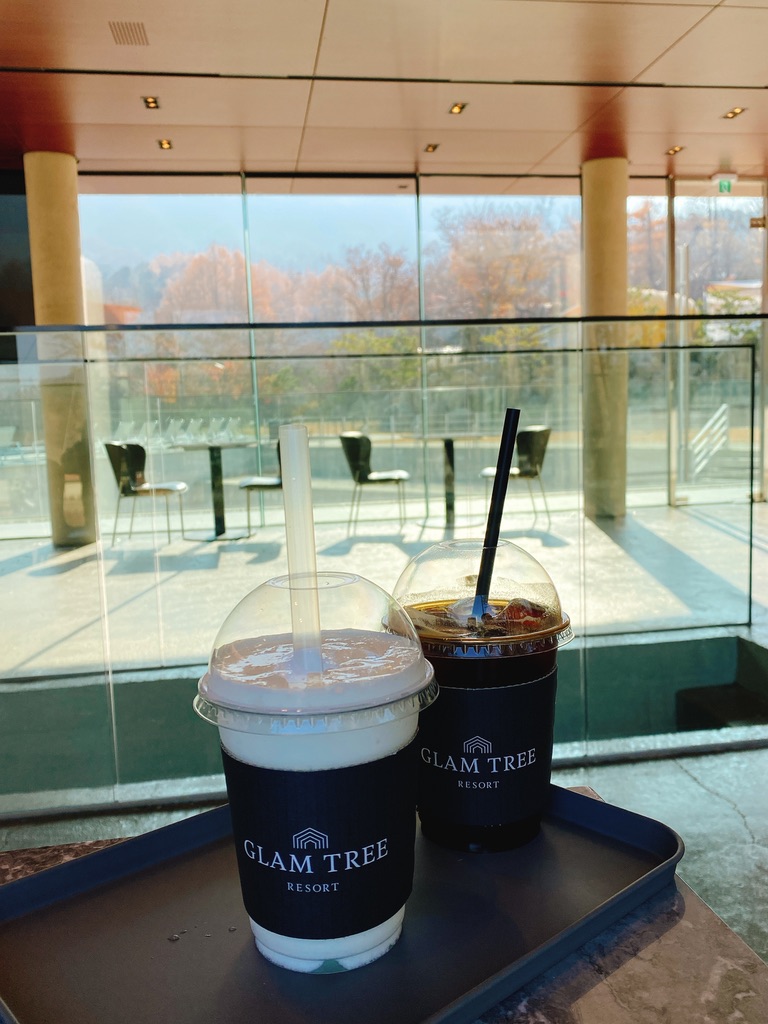 One of the best things when you stay in the Glamtree Resort is that you can enjoy swimming at this great infinity pool with a breathtaking mountain view. When it is getting colder in autumn, the swimming pool is operated with warm water so you may also enjoy swimming during this season. There is a pool inside the building as well so you may enjoy swimming inside the building too.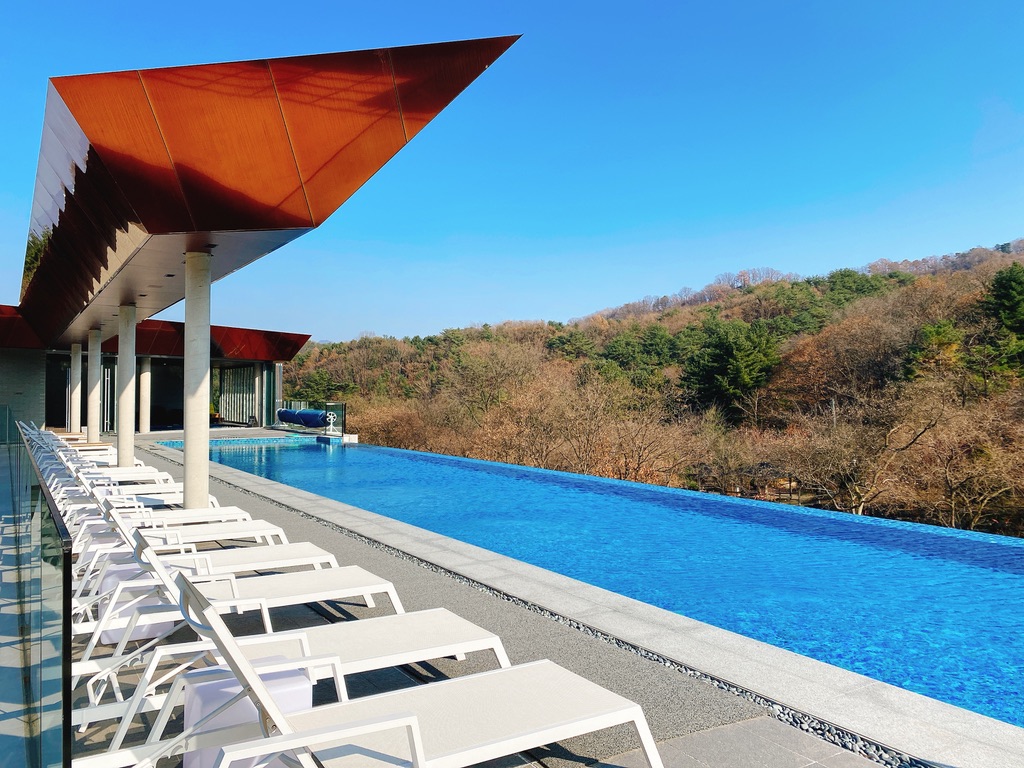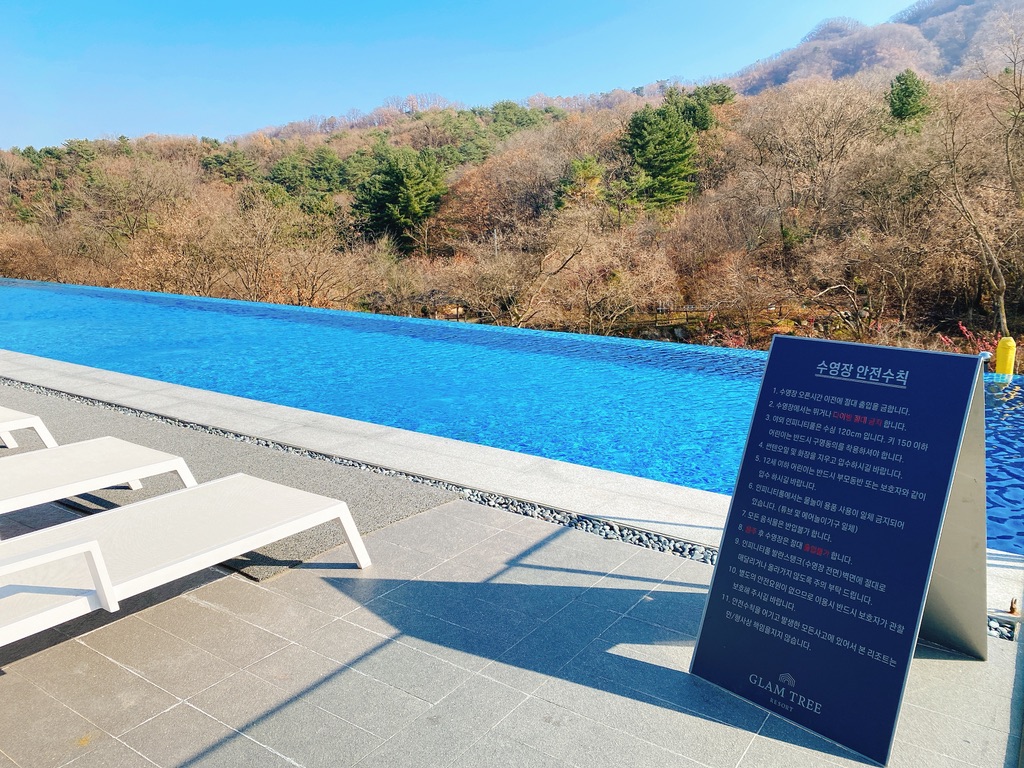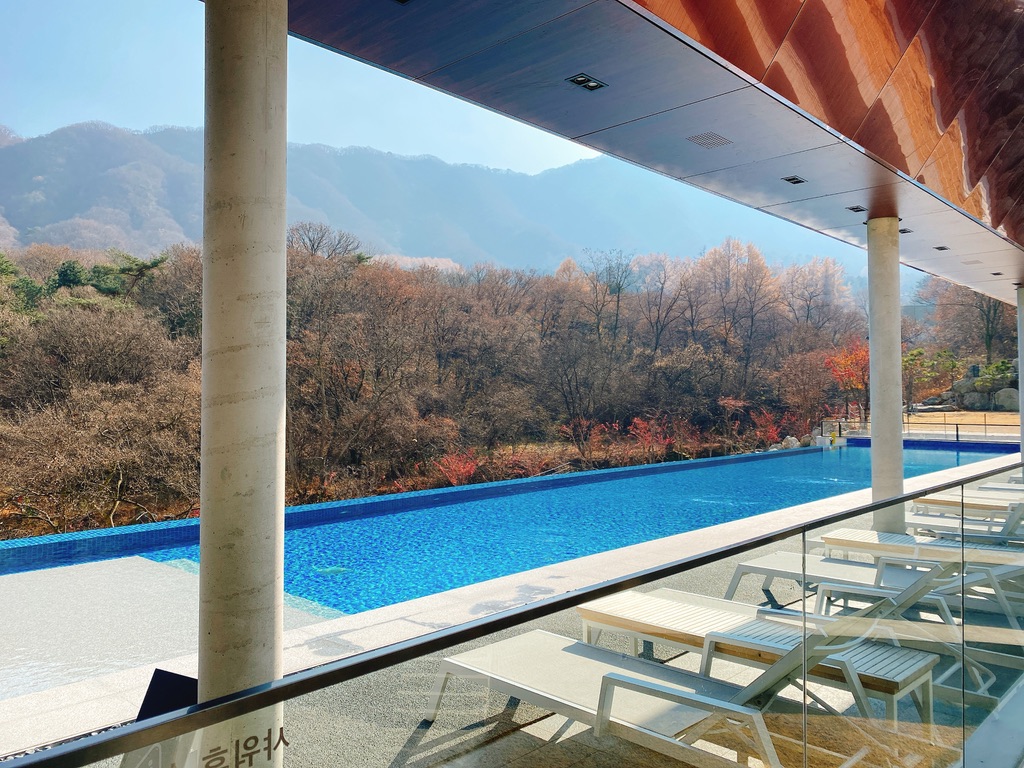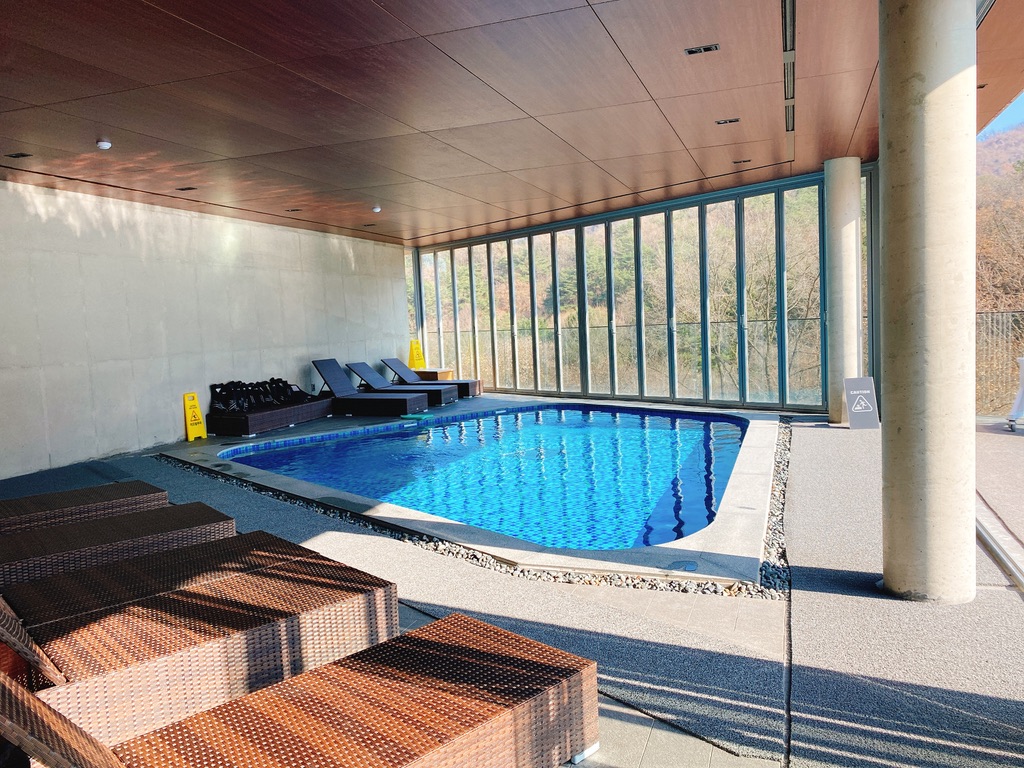 There are room types of Circle Room Type, Leaf Room Type and Leaf VIP A and B Type.
"Circle Room Type" has 1 queen bed with air conditioner, heater, 50-inch television, hair drier, tea pot, microwave, free wifi access, kitchen and room. There is a private garden of 130~190㎡ with a barbecue place to cook and enjoy barbecue.
"Leaf VIP Type" is similar to "Leaf Room Type" but is located on the upside of the hill so that visitors can enjoy a beautiful mountain view.
This is a "Leaf Room Type", which has 2 beds, air-conditioner, heater, 60-inch television, hair drier, tea pot, microwave, free wifi access, kitchen and a restroom. 2 persons (Maximum 4 persons) can stay in this room as there is 2 queen beds inside the room. There is a private garden of 180~220㎡ outside the room and there is a barbecue place for visitors to cook and enjoy the glamping vibes.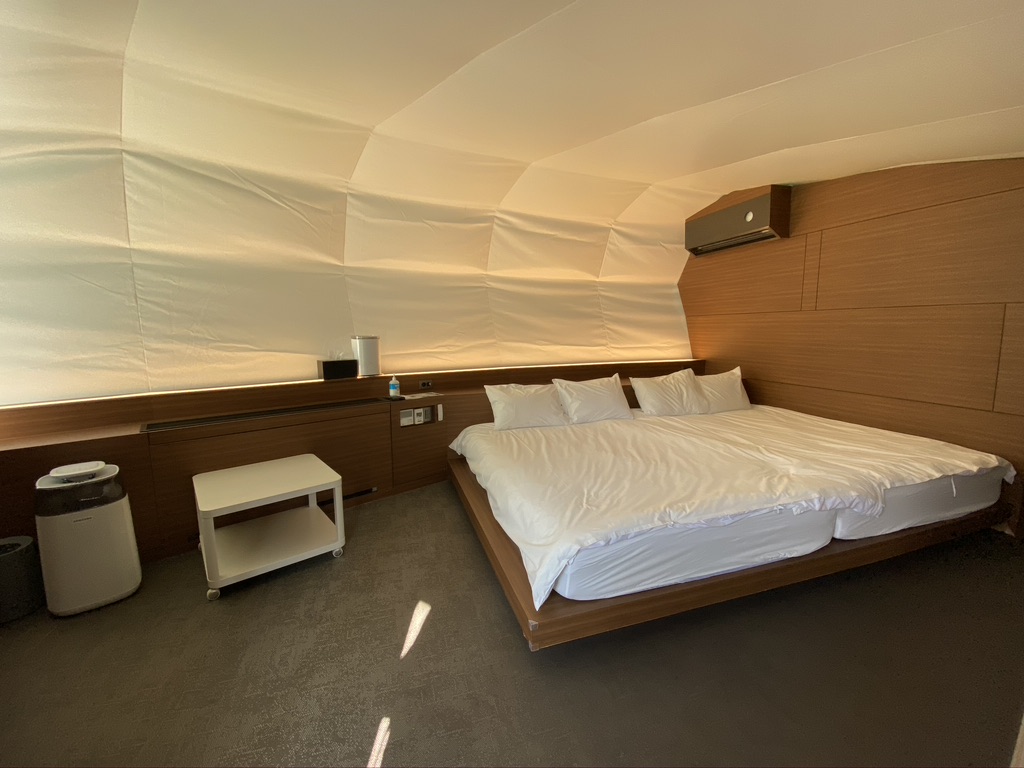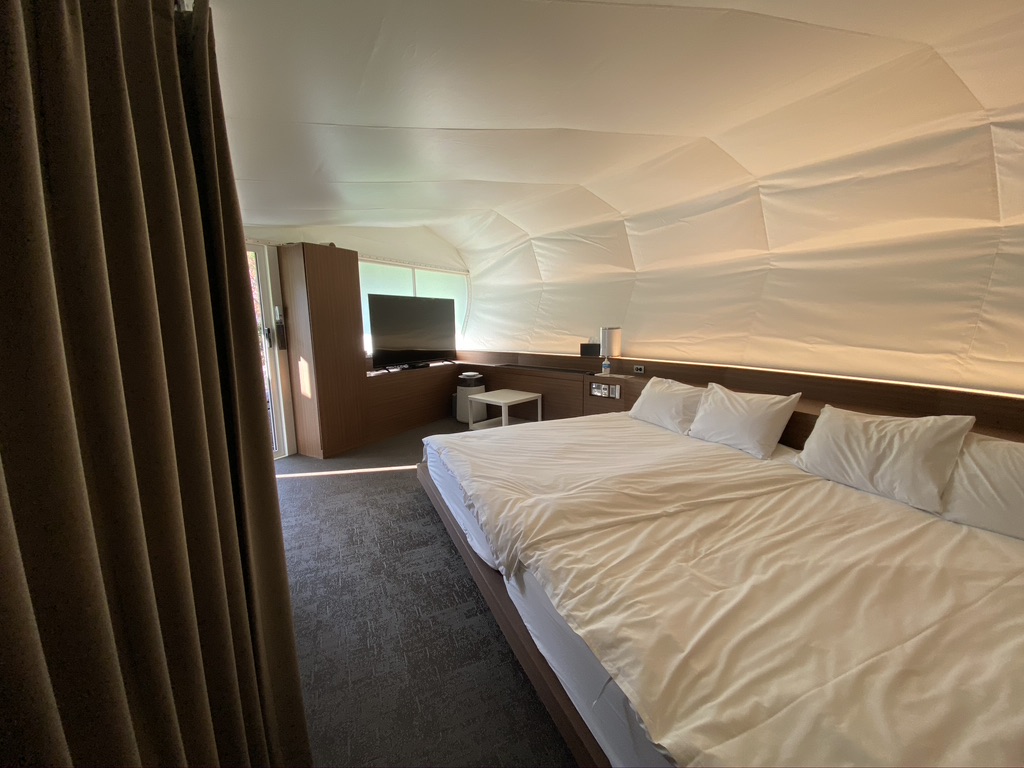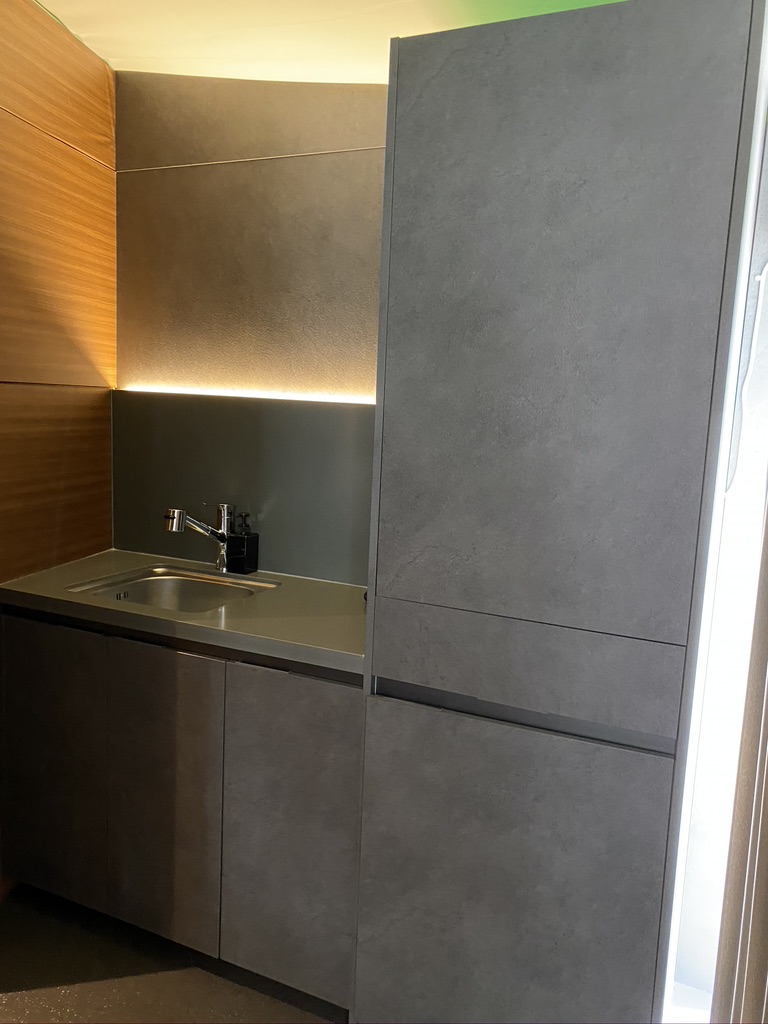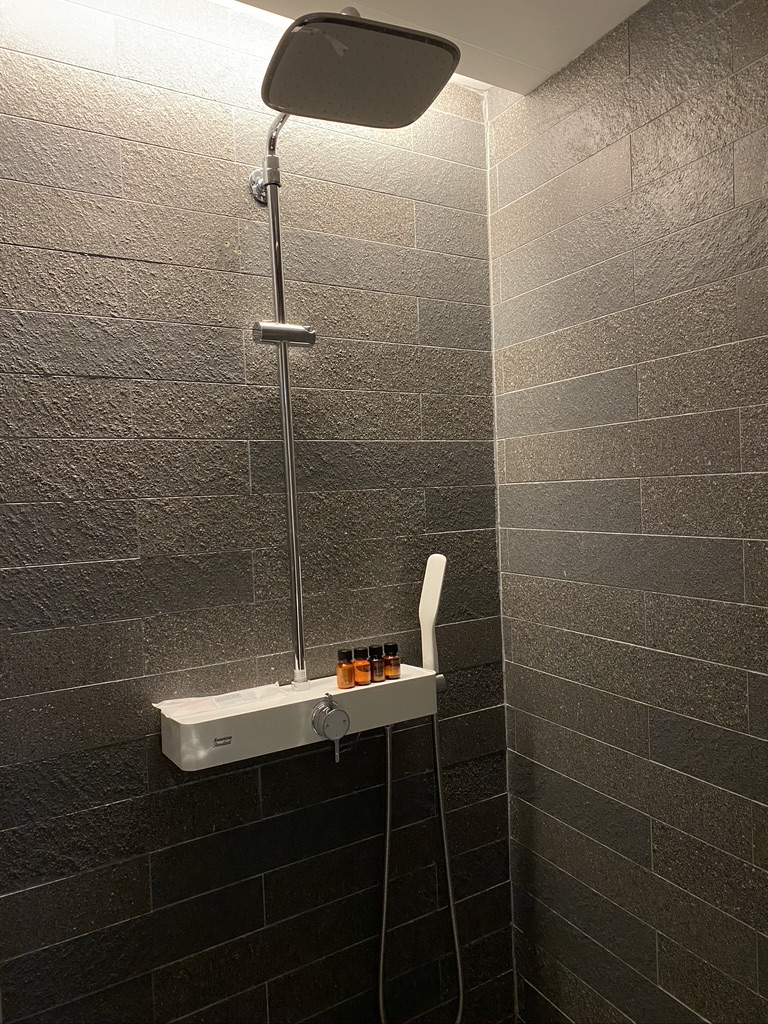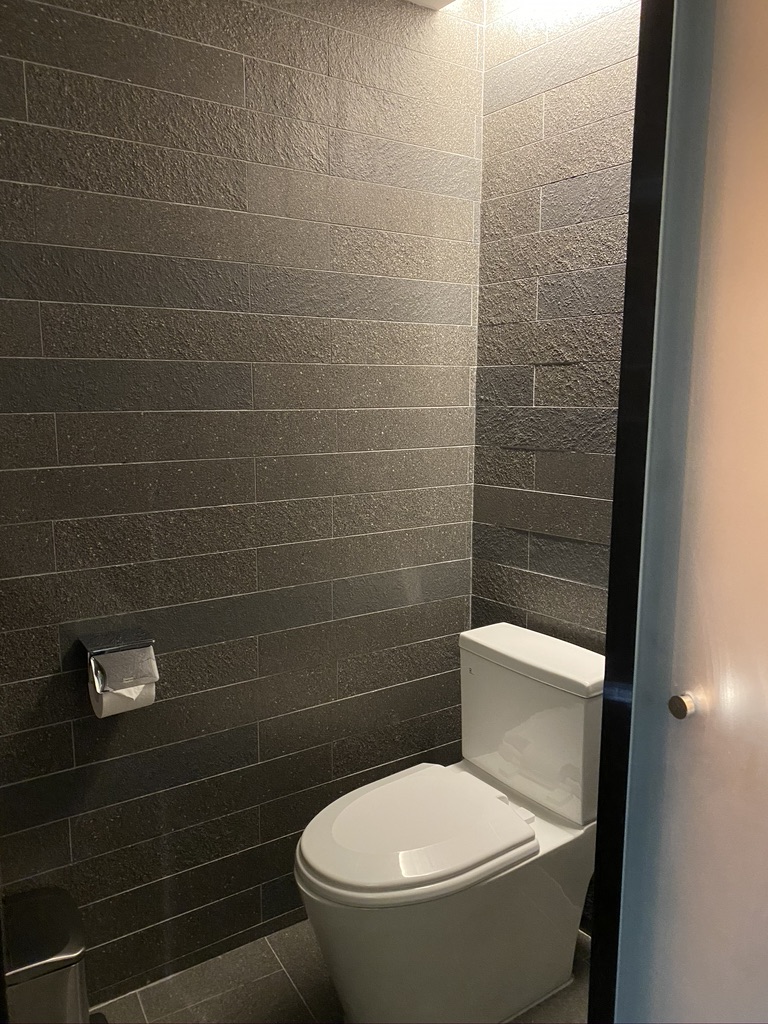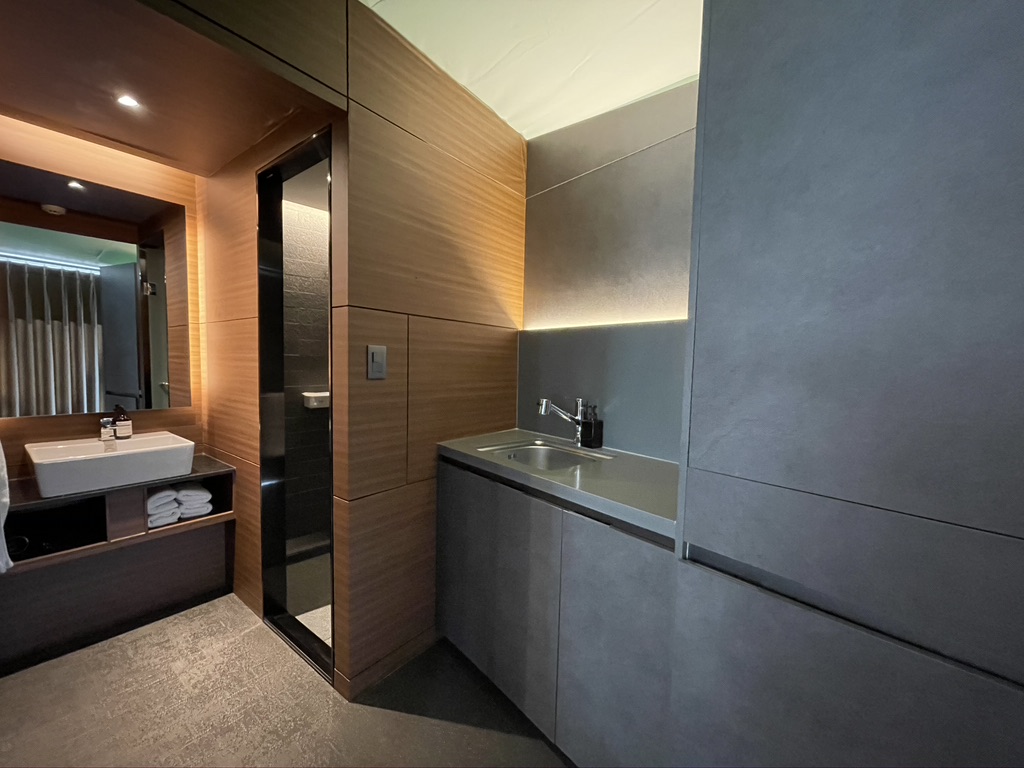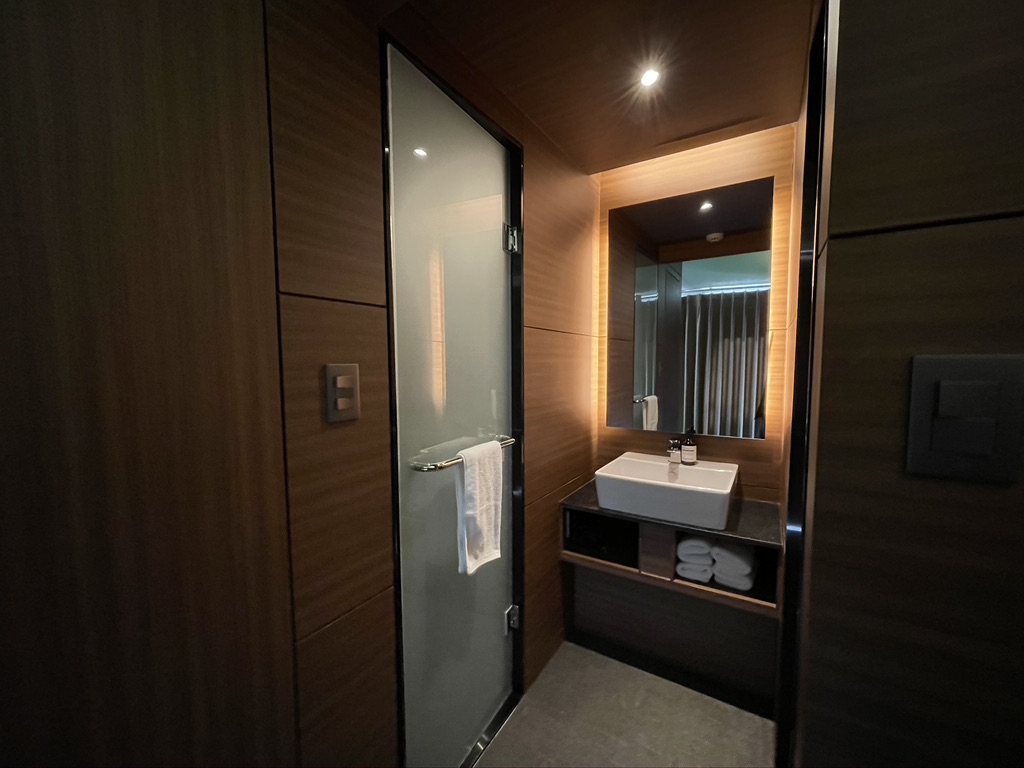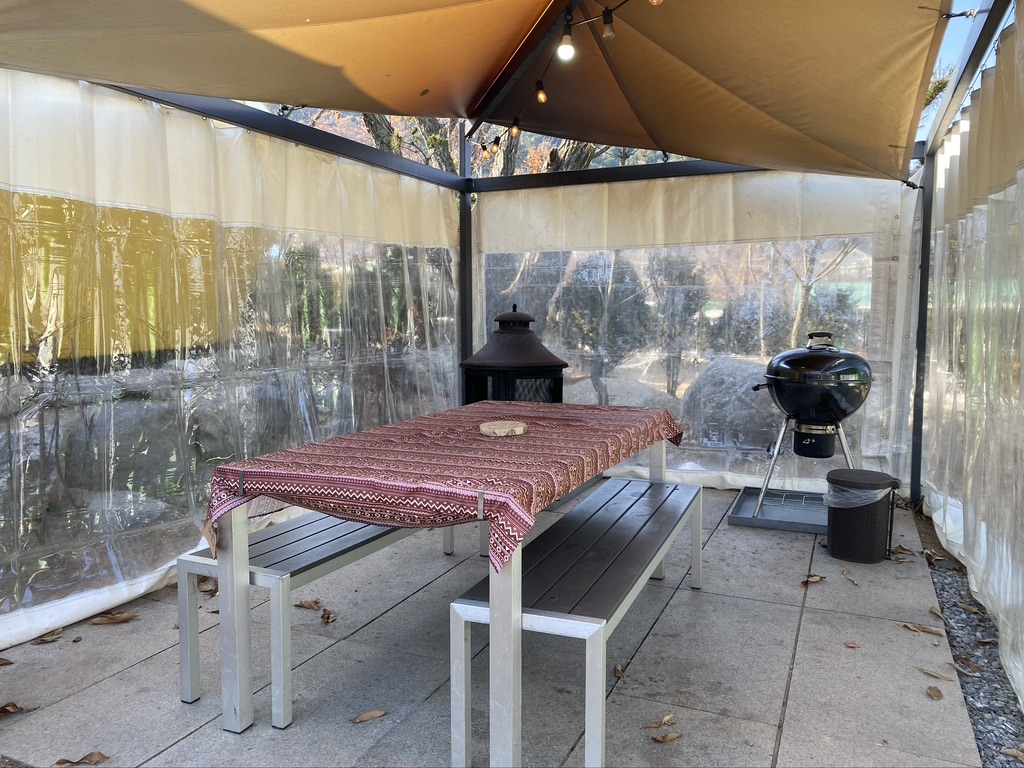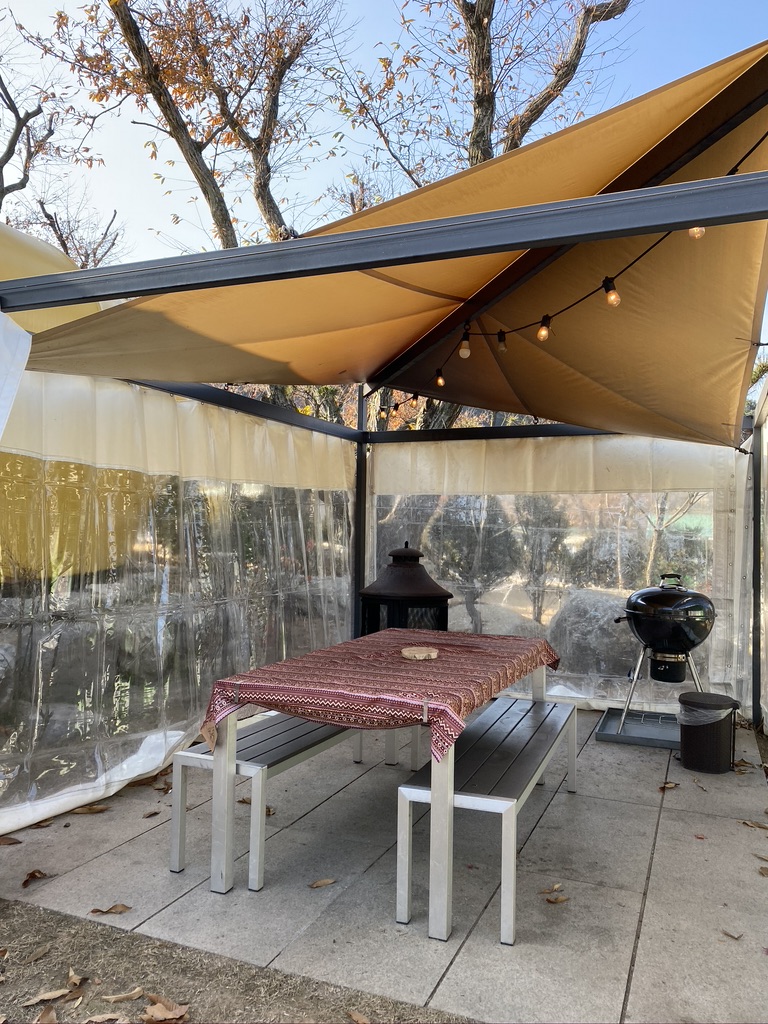 If you walk downside the resort, you may find a valley. This is another healing spot where visitors can enjoy a fresh air and a breeze outside the resort.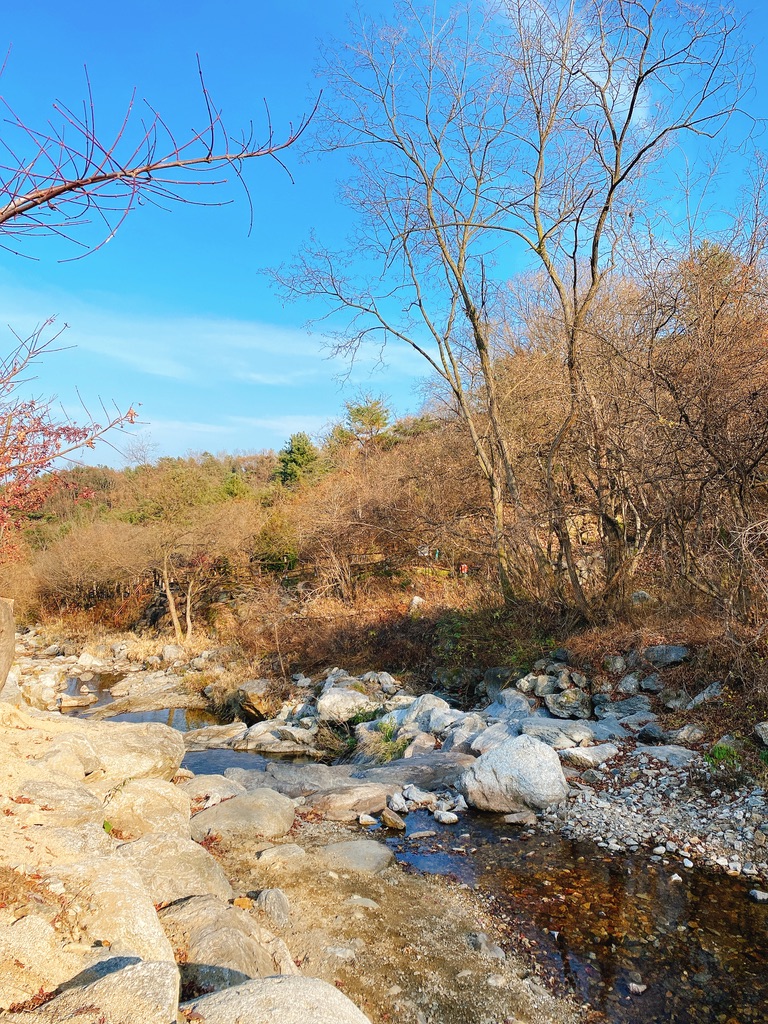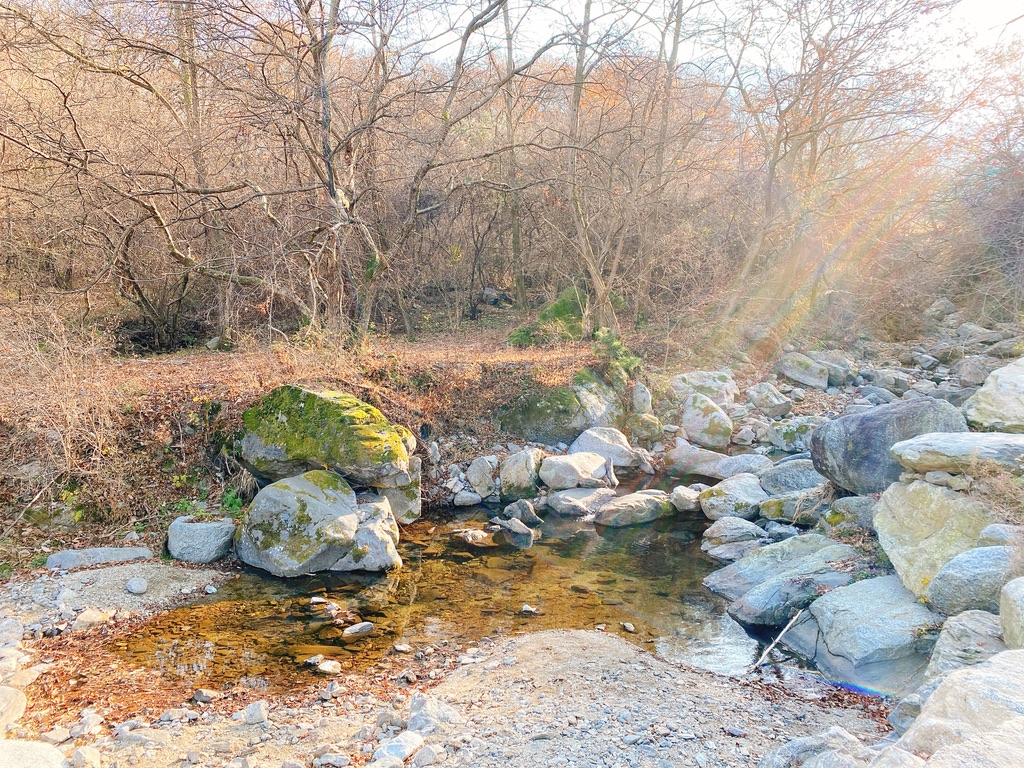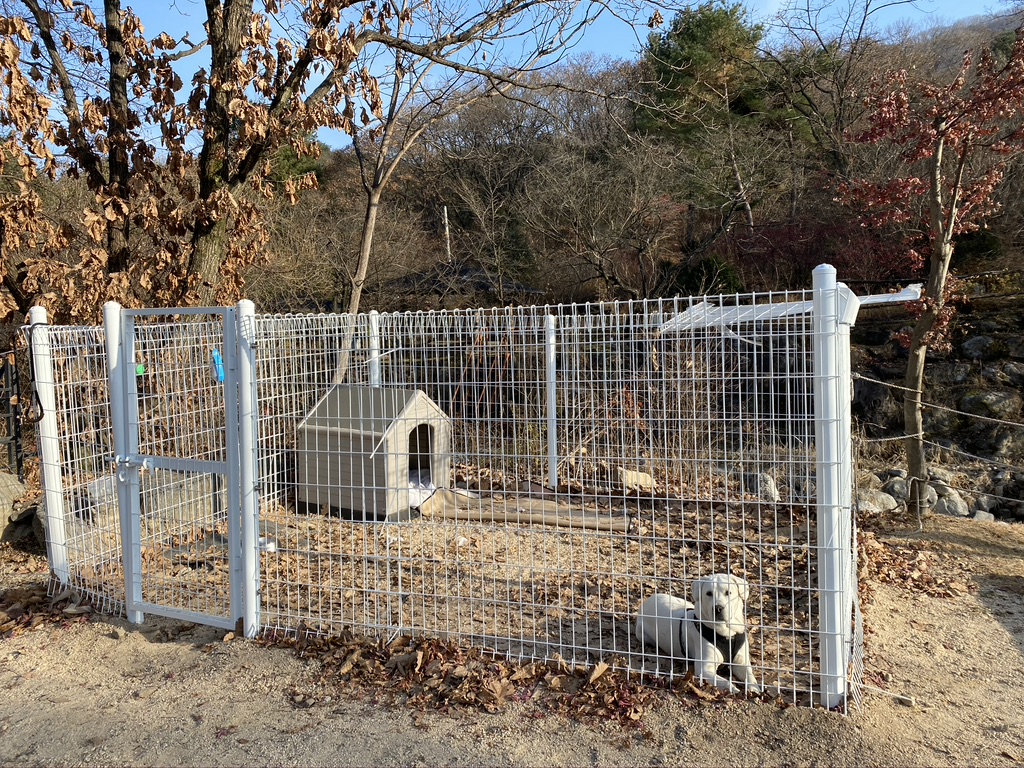 Inside the resort, there is a playground for kids and even for adults to play outside.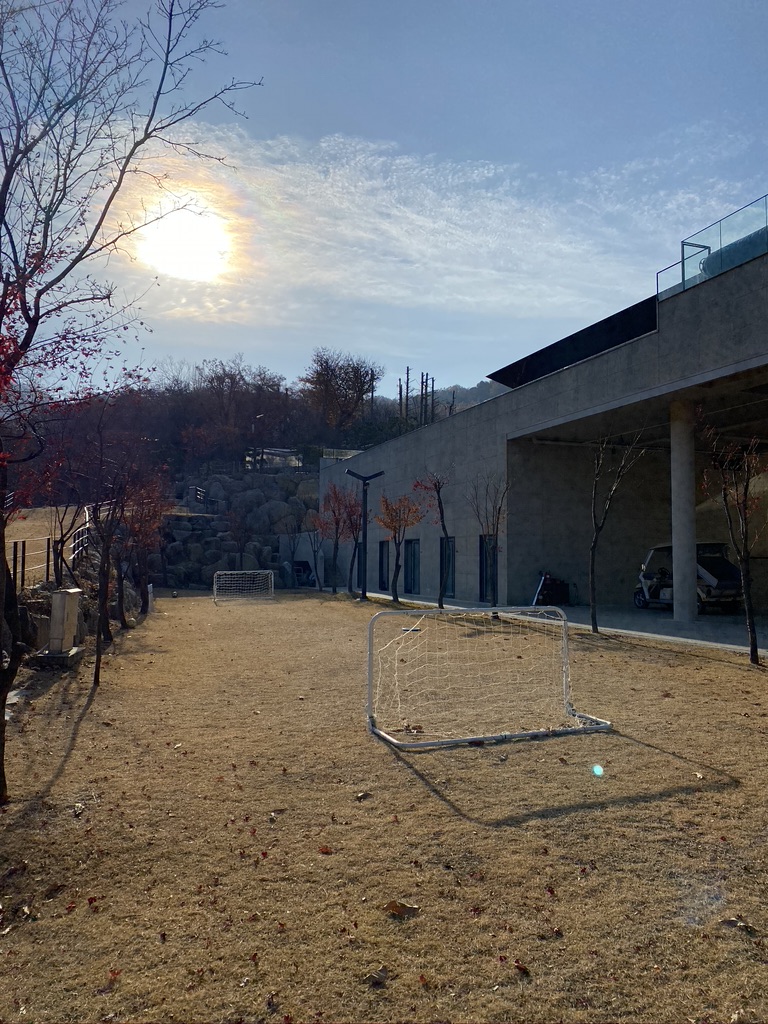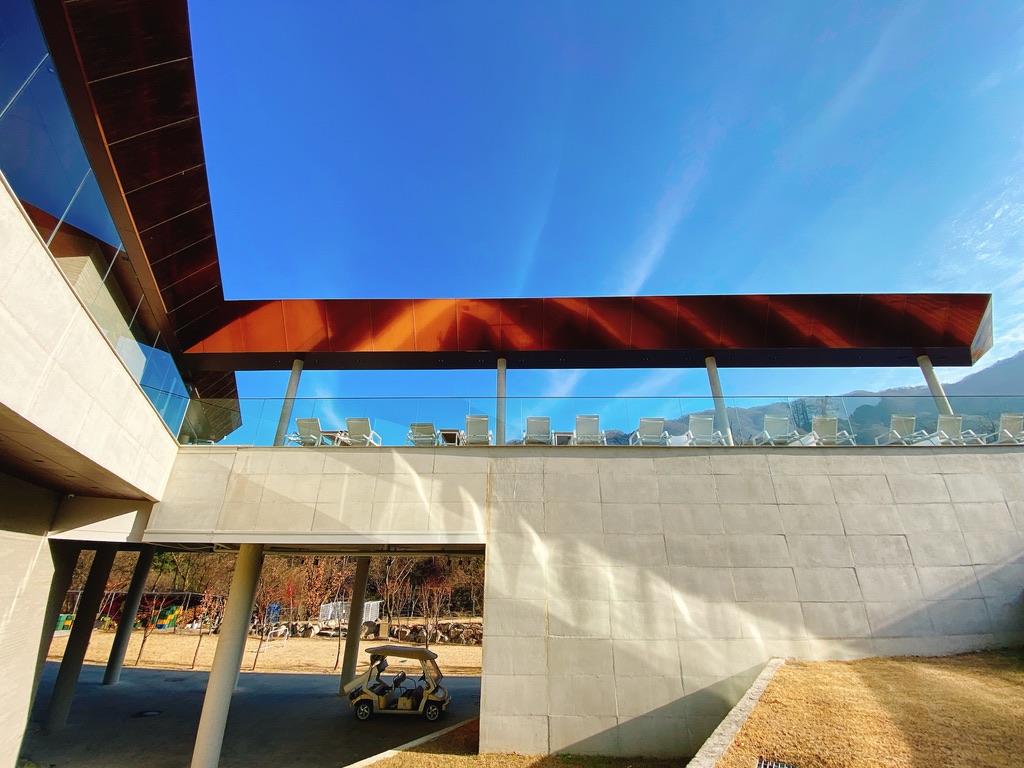 The best thing here is that you can enjoy barbecue outside so you can feel like you are enjoying glamping. Basic kitchenware are prepared for you. A knife, scissors, ladle, disposable paper plates, spoons, forks, chopsticks and cups are in the camping basket. There is an induction range, a pot and a pan in the kitchen as well. These can be used when you cook outside. Therefore, you do not need to prepare much for the glamping.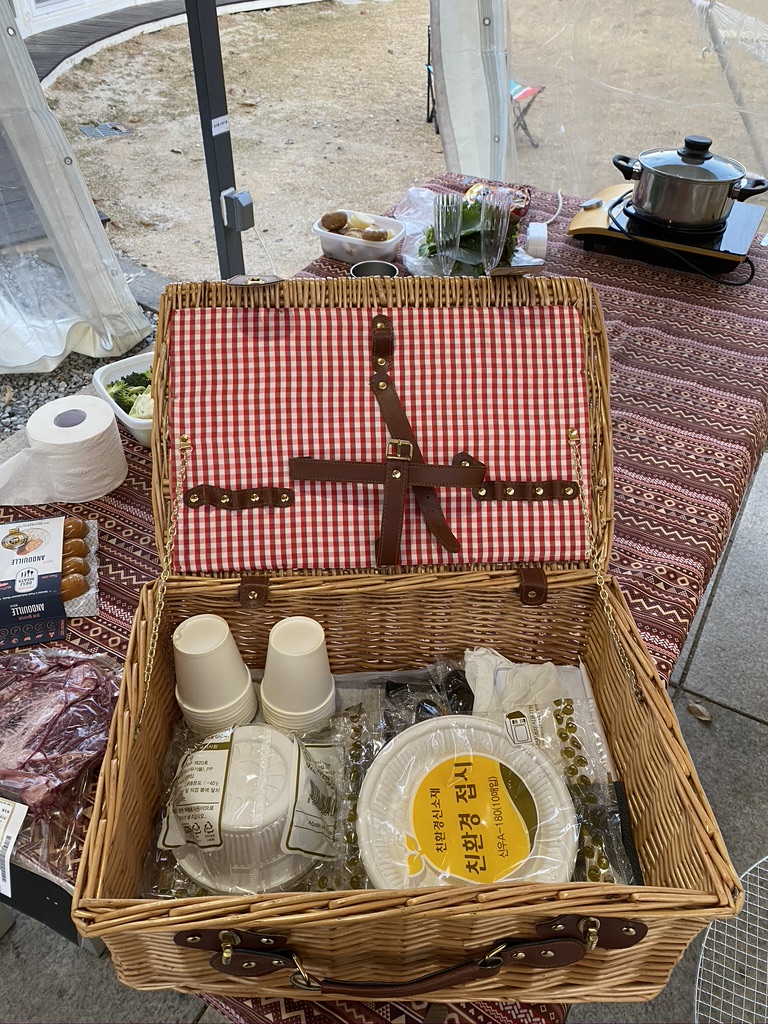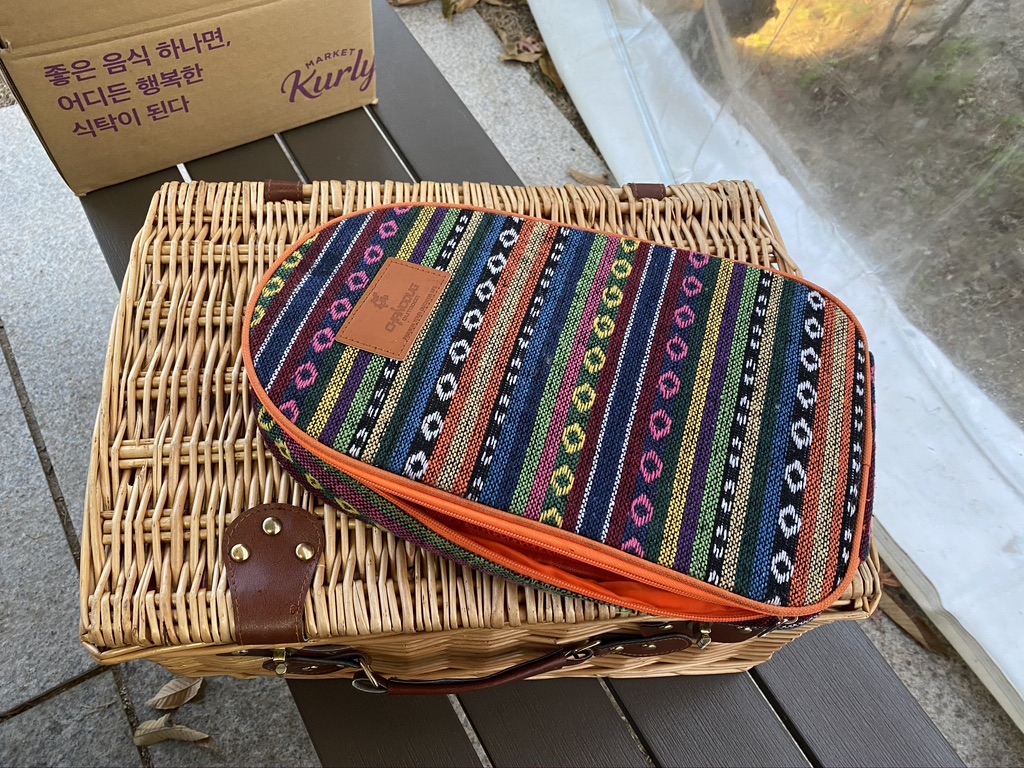 If you would like to enjoy barbecue at your garden, you may order charcoal so that you can broil, roast or grill the meat. You should pay 30,000 KRW to order charcoal. To boost up the glamping vibes, you can also order firewoods and you should pay extra 30,000 KRW for this.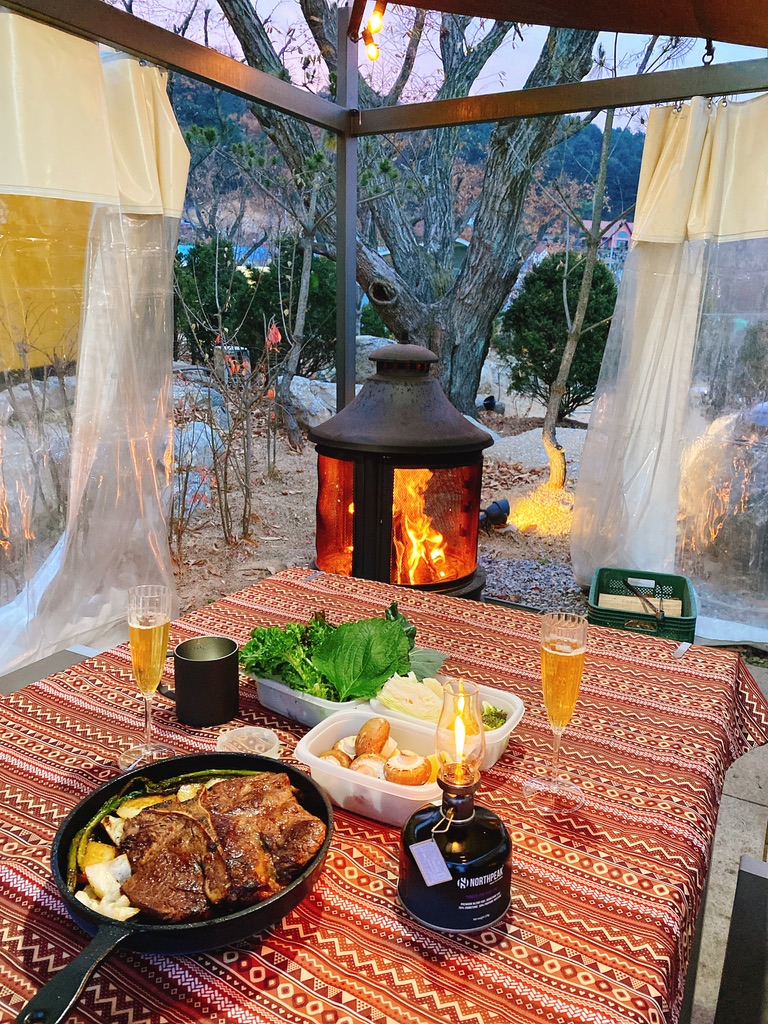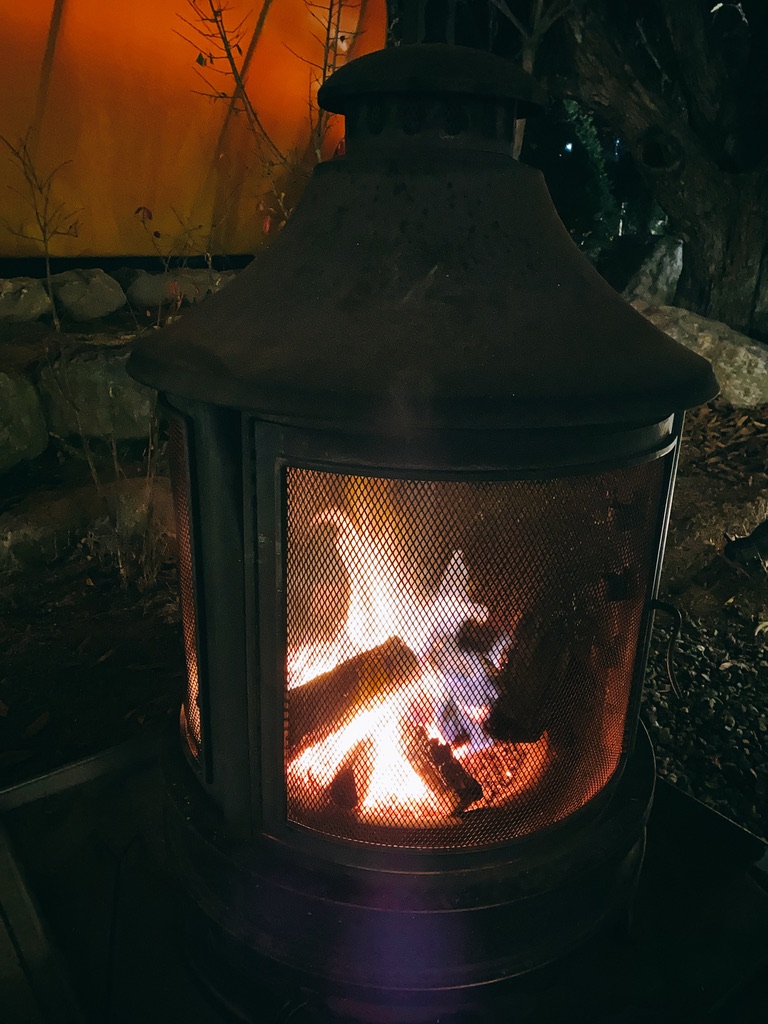 This is the room view when you look from outside at your garden.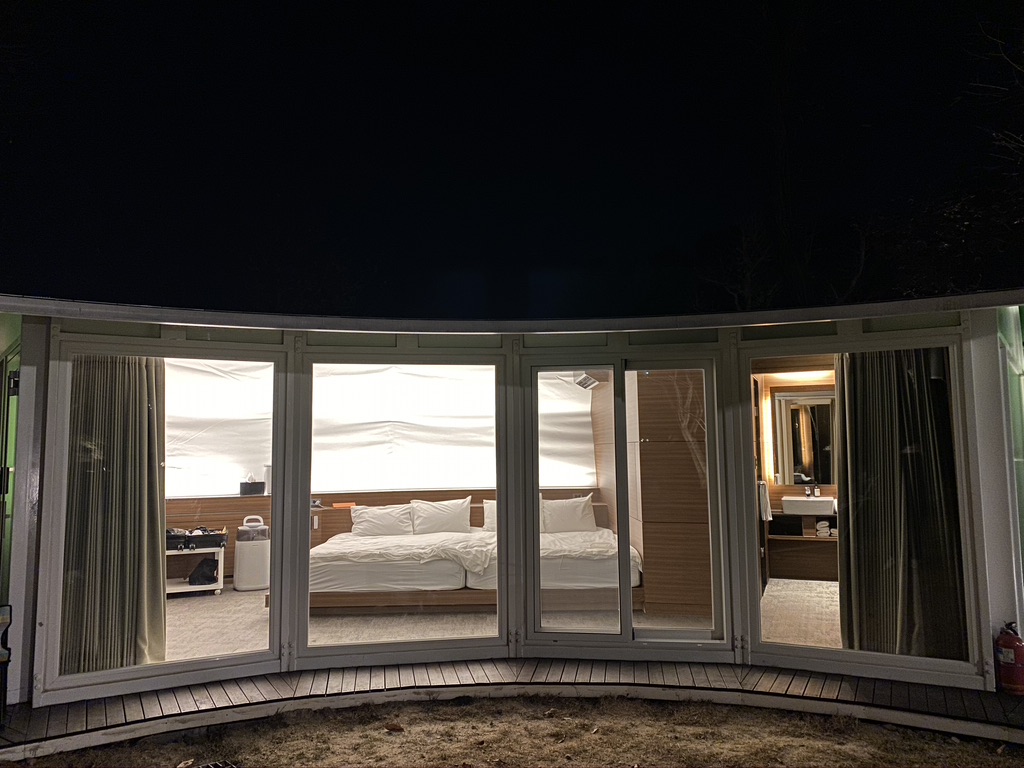 Also, you may walk along the resort at night and you can enjoy a stunning view of a cafeteria building and an infinity pool.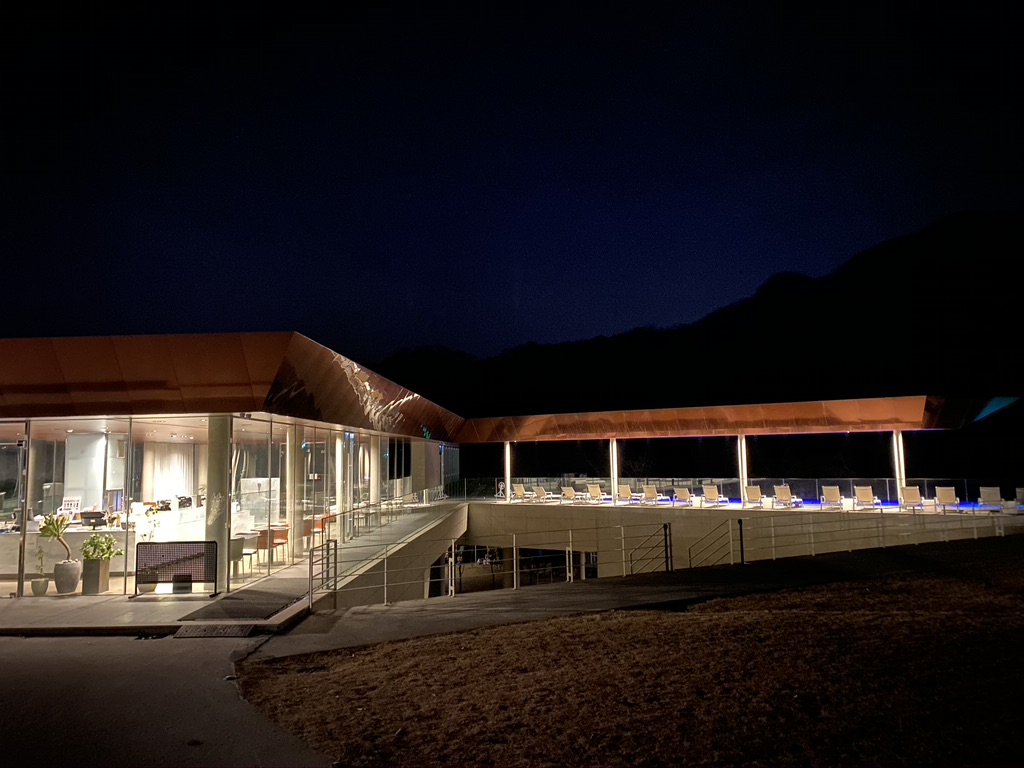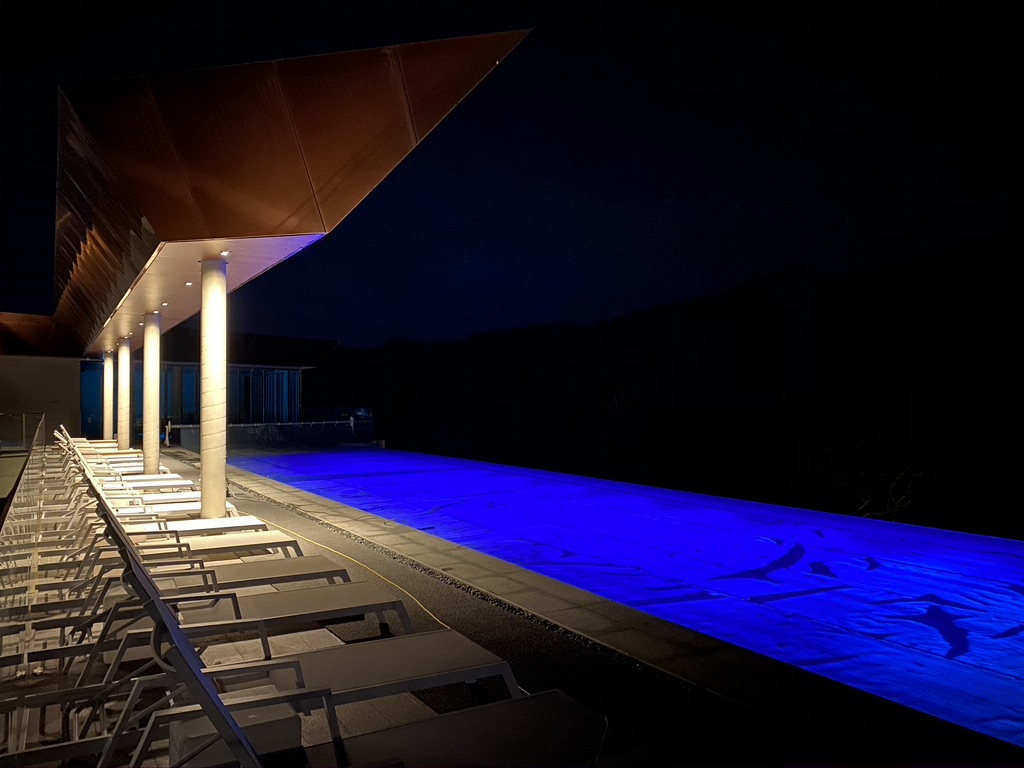 Glamtree Resort is definitely a perfect place for you to easily experience glamping in Korea. High quality facilities and amenities in this resort are provided to visitors so you may feel relaxed and enjoyable during your stay in the resort.
---
You may also like other Ella's Pick -
[FOOD: Restaurants, Korean dishes, Cafes] - Cafe "House Plant" in Hanam, Korea
[TRAVEL: Tour sites, Travel info, Hotels] - Hyundai Premium Outlet Space1 - Newly opened in Namyangju
[TRAVEL: Tour sites, Travel info, Hotels] - Seoul Wave Art Center - A Floating Exhibition Venue on Han River
[TRAVEL: Tour sites, Travel info, Hotels] - Gwanghwamun - The Southern gate of Gyeongbokgung Palace in Korea
[TRAVEL: Tour sites, Travel info, Hotels] - Myeongdong - A famous shopping district in Seoul, KOREA