Chicken Brands (Franchise) in Korea
As you may already know, Koreans love chicken. Chicken stores in Korea outnumber Subway and McDonald's stores worldwide. There are various kinds of chicken menus in each brand in Korea. You can find fried chicken, seasoned chicken or oven-roasted chicken in each store. The various kinds of chicken menus became one of the best menus for eating out or ordering delivery in Korea.
Especially, Koreans enjoy chicken with beer and they call it "Chimaek (치맥 in Korean)" which means the shorten Korean words of chicken (Chi) and beer (Maek). As chicken is one of the most popular korean dishes, we are going to introduce you some of the famous chicken brands in Korea today.
---
Ella's First Pick of chicken brand is "Puradak (푸라닭 in Korean)".
Puradak Chicken is opened in 2014, which is a quite new chicken brand in Korea. However, it is getting popular with its advertising model, Jung Hae In and its unique taste of chicken. Their motto is to make their own brand a luxury and special brand of chicken franchise in Korea.
They offer chicken menus that are Puradak Chicken (Original), Black Alio, Pepper Mayo, Mad Garlic, Pablo, Spicy Girls, Devils, Sweet Seasoned, The China and Black Devils chicken. As they offer various kinds of menus, people can choose from wide selections. They also offer side menus of French Fries, Onion Rings, Oil Tteokbokki and Cheeseballs.
You can see the Original and Seasonsed chicken with Oil Tteokbokki in the photo below.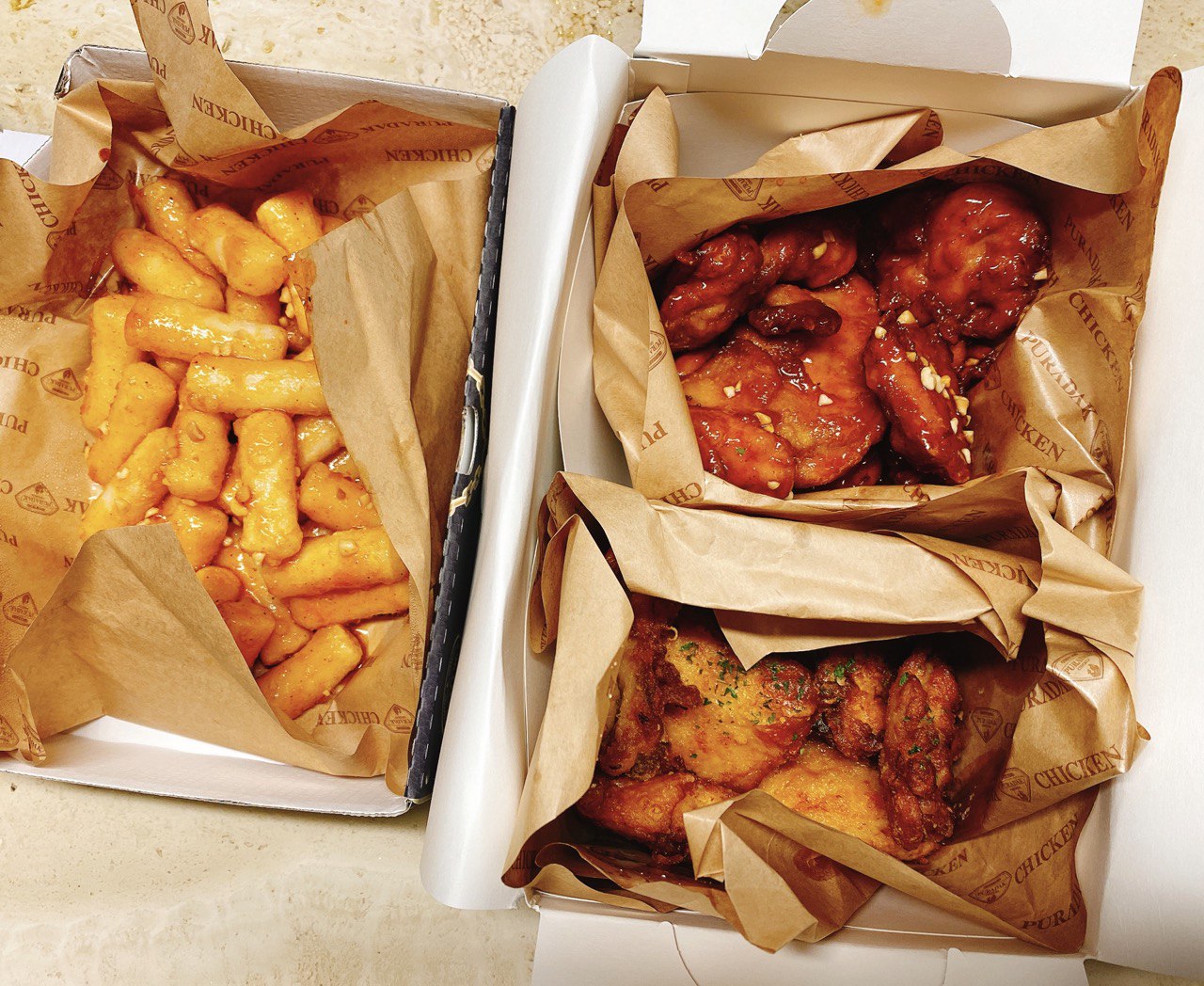 "Goobne chicken (굽네치킨 in Korean)" is getting popular with their oven-roasted chicken. They gave an impression of providing healthier chicken rather than the fried chicken.
They also have wide selections in menus such as Original, Crispy Pepper, Volcano and Galbi Cheonwang. Crisy Pepper has its spicy and crunchy taste while Volcano has spicy taste with its hot sauce. Galbi Cheonwang is based on Galbi seasoning so it is also one of the most popular menus at Goobne.
They also have side menus of Wedge Potatoes, Cheese Balls, Cream Balls and Baguette Balls. You can see two kinds of chicken (oven-roasted and seasoned), cheese balls and wedge potatoes in the photo below.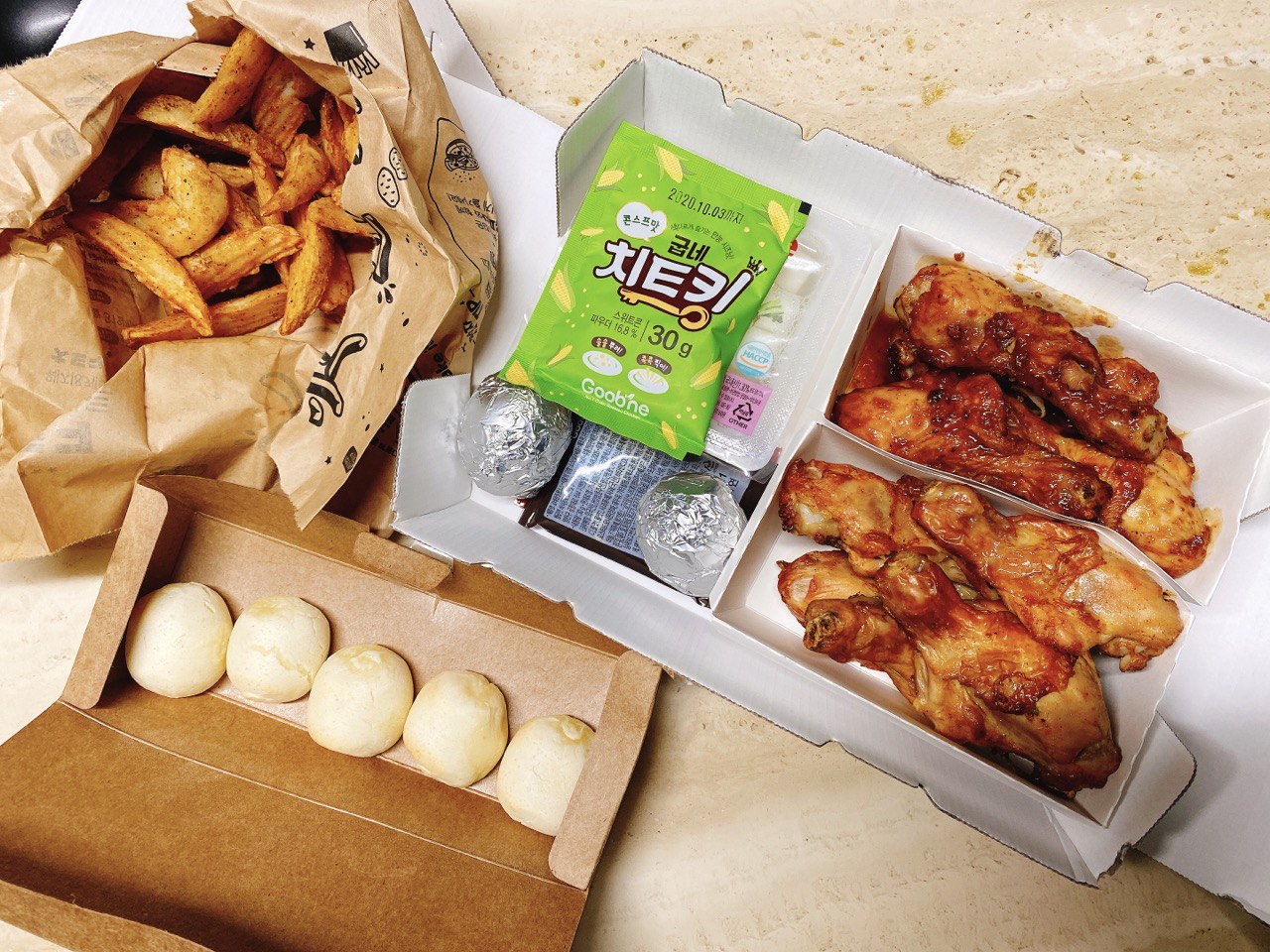 "Cheogajip (처갓집 in Korean)" is a chicken brand that you should come up with when you want to try "Yangnyeom Chicken (양념치킨 in Korean)". Yangnyeom chicken is a chicken seasoned with spicy and sweet red sauce. Cheogajip is very famous for the seasones sauce and here is the place where you can try the Yangneyom Chicken.
The photo below shows "Ban Ban Chicken (반반 치킨 in Korean)" which means half and half chicken including both of the fried and seasoned chicken. In the photo below, you can see Fried Chicken and Supreme Yangnyeom Chicken which has red and white sauce that make a chicken taste more unique.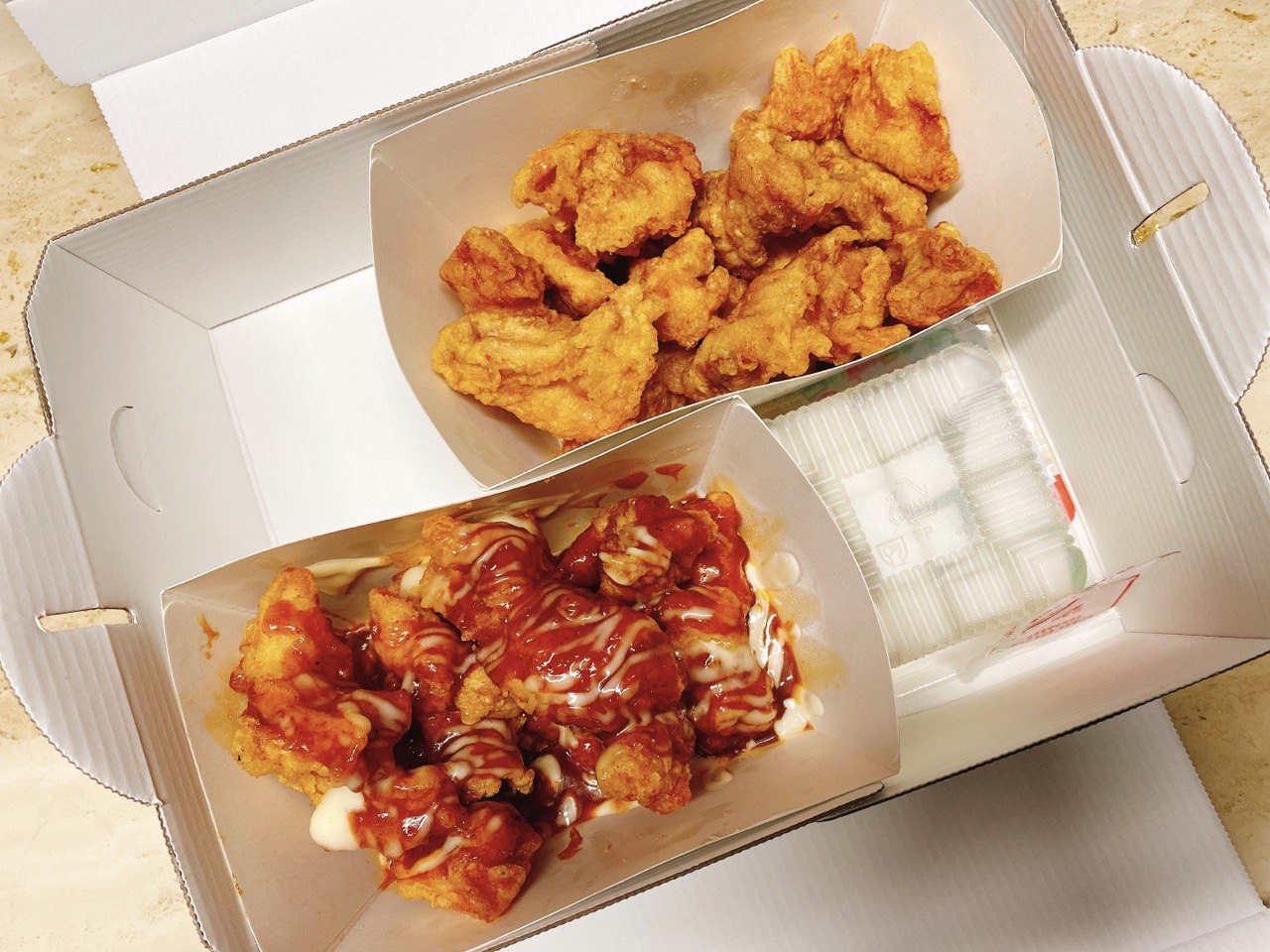 "BHC" had its original name of Byeol Hana Chicken and opened in 1997. It changed its name to BHC which currently stands for Big Hit Chicken in 2000. BHC had been acquired by BBQ and have been acquired again by Citi Group (private equity fund of US stakeholders) after 9 years.
They offer not only the menus of Fried Chicken but also Prinkle or Matcho King. Prinkle is also a fried chicken but it is seasoned with their unique cheddar cheese, garlic and onion seasoning powder and the sauce. Matcho King is a chicken based on soy-sauce with some toppings of spicy pepper.
They also have side menus which are also very popular. The side menus are cheese balls, french fries, corn dogs and so-dduk (sausage and rice cake). The photo below shows the fried chicken and cheese balls at BHC chicken.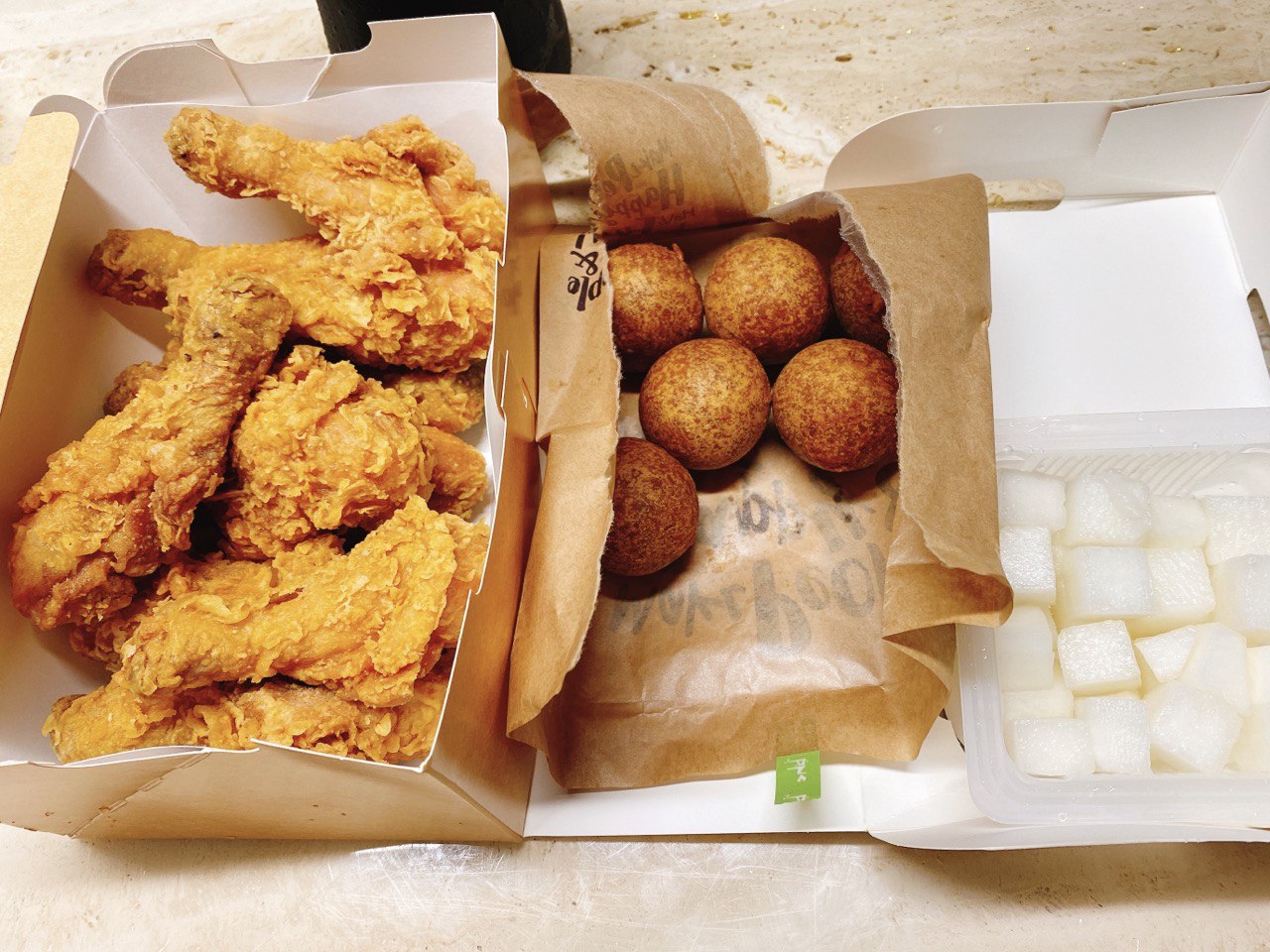 "Gcova (지코바 in Korean)" is also famous for Seasoned Fried Chicken and Grilled Salted Chicken. They also provide half and half chicken so you can try both of those when you cannot choose one.
They offer a small pieces of chicken and grill them with its unique sace. The taste of Seasoned chicken is a bit different from others as it has more spicy taste than other yangnyeom chicken so people enjoy its unique and special taste of Gcova seasoned chicken. The rice cake provided with the seasoned chicken is another specialty in Gcova.
You can choose the spicy level (Very Spicy / Normal / Less Spicy) so people who are not familiar with very spicy taste can choose less spicy seasoned chicken. As the chicken seasoning is unique in Gcova, people love to put some rice and enjoy the seasoned rice as well. They are calles as "Chibab (치밥 in Korean)" which means chicken and rice.
As we mentioned earlier, there are a lot of chicken brands (franchise) and stores in Korea. Actually, there are more famous chicken brands that we should show you such as Kyochon, BBQ, Nene and 60 Chicken so we are going to introduce more chicken brands later on.
Before we show you other chicken brands, you may experience some of the chicken brands mentioned above.
---
You may also like other Ella's Pick -
[FOOD: Restaurants, Korean dishes, Cafes] - Negi Sukiyaki at Andaz Hotel in Gangnam, Korea
[TRAVEL: Tour sites, Travel info, Hotels] - Olympic Park Seoul - A Large Park in Sonpa-gu, Seoul KOREA
[FOOD: Restaurants, Korean dishes, Cafes] - Myungrang Hot dog - Unique Korean-style hot dogs
[FOOD: Restaurants, Korean dishes, Cafes] - Terarosa Coffee - A great place for you to enjoy coffee in Gangneung