Pyeongyang Naengmyeon- North Korean style cold noodles in Korea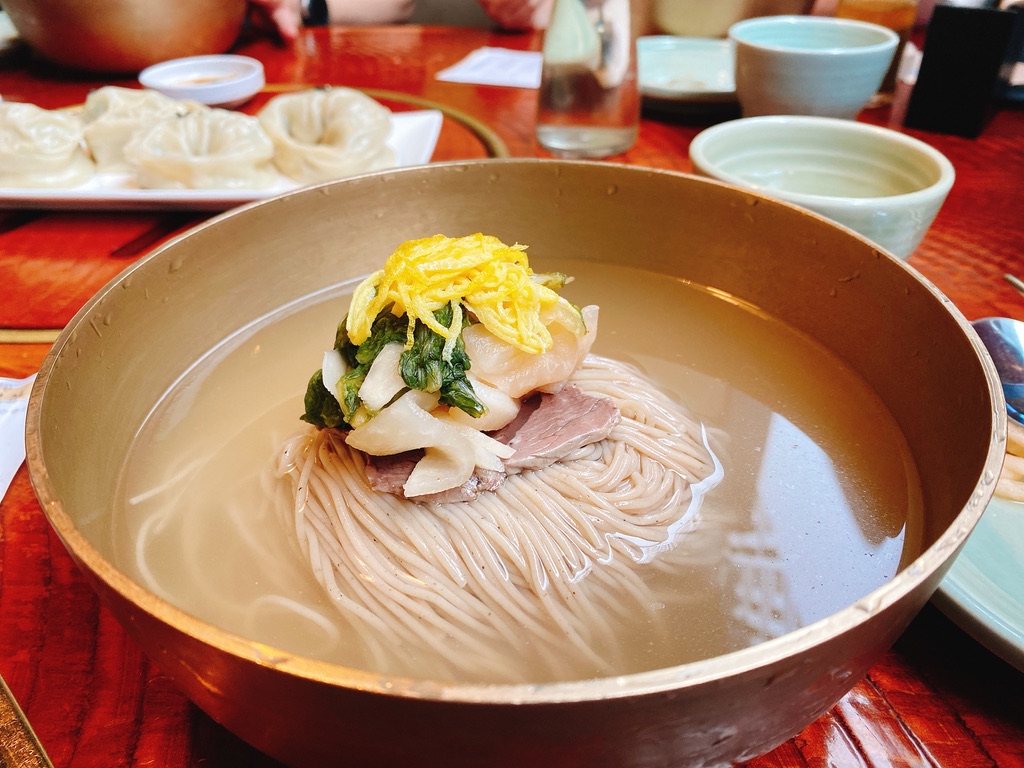 It is quite hot in summer these days. The temperature in Seoul is between 24-29℃ in August.
In summer, many koreans enjoy to eat cold noodles. We say the cold noodles, "Naengmyeon" in Korean language.
Naengmyeon is a Korean noodle dish which is made of thin noodles flour, starch of buckwheat, potatoes, sweet potatoes, arrowroot starch and kudze. The dish is served in a tangy broth and usually consists of radish kimchi, thinly sliced beef, pork or chicken, cucumbers and Korean pears.
---
There are various types of naengmyeon such as Pyeongyang naengmyeon, Hamhung naengmyeon, Jinju naengmyeon, Mul-naengmyeon, Bibim-naengmyeon and Hoe-naengmyeon.
Among these various types of Naengmyeon, we are going to talk about "Pyeongyang Naengmyeon (평양냉면 in Korean)" today. As you may know already, Pyeongyang is a capital city in North Korea and this naengmyeon is originated in Pyeongyang as implicated in the name of Pyeongyang Naengmyeon.
Pyeongyang Naengmyeon is generally served in a large metal bowl. Like other naengmyeon dishes, it consists of buckwheat noodles, radish kimchi, thinly sliced beef, pork or chicken, thinly sliced cucumbers and Korean pears with a tangy broth (meat broth/dongchimi broth or both). Dongchimi is a kind of kimchi without red pepper powder).
As many Koreans love to eat Pyeongyang Naengmyeon, there are a lot of Pyeongyang Naengmyeon restaurants in Korea - Jin Mi Pyeongyang Naengmyeon, Eulmildae, Pyeongyang Myeonok, Wooraeok and so on.
As explained above, Pyeongyang naengmyeon is one of the favorite dish in Korea especially in summer so we hope you can have a chance to enjoy the special taste of Pyeongyang naengmyeon in Korea.
---
You may also like other Ella's Pick
[FOOD: Restaurants, Korean dishes, Cafes] - New Origin at IFC mall in Yeouido Seoul, Korea
[FOOD: Restaurants, Korean dishes, Cafes] - Changgo43 - Korean Beef Restaurant in Seoul
[FOOD: Restaurants, Korean dishes, Cafes] - 55℃ Coffee Roasters - A beautiful cafeteria in Bundang, Korea